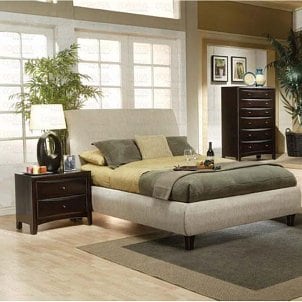 After a long day, you'll more than likely find yourself retreating to your bedroom for some much needed rest and relaxation. As such, you want your bedroom furniture to create a relaxing atmosphere that turns your bedroom into your personal sanctuary. Select bedroom furniture that will not only look right within the room, but also fit comfortably and is easy to live with. This article helps you learn how to buy bedroom furniture.
Buying Bedroom Furniture:

Measure your bedroom. Once you have measured your room from wall to wall, measure the room's existing furniture. Does this furniture fit nicely into the area or is your room a bit cramped? Measuring your present furniture will give you a size compass for finding bedroom furniture that will fit comfortably within your bedroom.

Consider how long you plan to use the furniture. Some consumers buy smaller, less expensive pieces that they can sell a few years later in the event of relocation instead of having to move a heavy bedroom set. Others consider their bedroom furniture as heirloom material, which they can pass down later to children or grandchildren. If you find yourself falling into the latter category, choose heavier, upscale furniture that will last throughout the years. Otherwise, opt for inexpensive, but durable, choices.

Note the materials. Note the materials from which the furniture is made. Choose furniture that is sturdy and made from quality materials. Don't be fooled into thinking that solid wood furniture is superior to furniture with large plywood panels. As wood is porous, it can easily warp and expand over time. Using plywood for large panels cuts down on deformation of your furniture over time.

Decide what you need. Identify which pieces you'll need for your bedroom. Know what you need before you begin shopping and you'll be less likely to buy items that you don't need. Do you want a headboard that attaches to a frame or would you prefer a bed? Will a dresser provide enough storage for you or will you also need a nightstand? Do you want bedside tables on both sides of the bed or just on one side?

Match styles. Match furniture styles, but don't feel obligated to buy complete sets. Mixing and matching furniture pieces allows you to express your style while finding pieces that might be more functional than those you find combined with sets.

Buy Bedroom Furniture
Back to Guides Directory