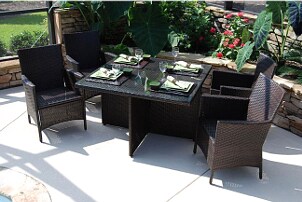 Whether you want an outdoor sanctuary or an entertaining area, an outdoor dining set will help you create a pleasant atmosphere. Outdoor dining furniture and dining sets come in a wide range of sizes and materials to fit your yard and lifestyle. Read on for tips on buying an outdoor dining set for your home.
Buying an Outdoor Dining Set:

Find a place. Before buying outdoor dining furniture, decide where you want to put it. Consider how you will use outdoor patio sets. You might like to place outdoor furniture on your back porch or patio so you don't have to carry dishes very far. An outdoor furniture set might also work best close to the pool so you can keep an eye on the kids. Finally, decide whether you plan to put your outdoor dining chairs in the sun or the shade.

Select a size. A wrought-iron bistro set is perfect place for enjoying morning coffee and a moment of serenity before starting your day. These patio sets also work well for intimate dinners under the stars, but you might prefer slightly larger metal patio tables to give you space for appetizers, entrees and wine. Seven-piece dining sets work well if you have a large family or like to have friends over when you grill or swim in the pool.

Select the materials. Wood patio tables and chairs are durable and provide a nice, casual atmosphere for family lunches. Metal sets last a long time and have a more elegant feel to them than other outdoor furniture materials. Patio sets made of plastic and resin are extremely resistant to the elements and will work best in wet climates.

Select your features. Dining sets come with several different features. Some will expand, much like a regular dining table. Other outdoor patio sets will have cushioned seating or a table that will hold a large umbrella. Look for weather-resistant patio dining sets if you live in a climate with harsh winters.

Select a color. Most outdoor dining sets come in a neutral color that will work with almost anything, but some will feature bolder color options and classic patterns, from nautical stripes to tropical florals. Choose patio dining sets in a pattern or color that will complement your home best.

Buy Dining Sets
Back to Guides Directory