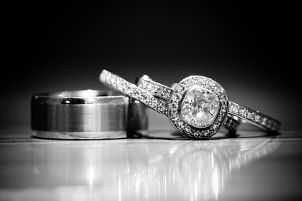 Few pieces of jewelry are as important as an engagement ring. Whether you are hoping to surprise the love of your life with a stunning diamond or are picking out your own ring, you'll want to put some thoughtful preparation into the shopping process. With these tips, you can choose an engagement ring that will last a lifetime, just like your marriage.
Choosing an Engagement Ring:

Set a budget for the ring. Having a budget lets you quickly find rings in your price range, so you can start comparison shopping. Fortunately, online jewelry stores usually have products divided into pricing categories as well as categories for materials, size and style. Check several pricing categories to get an idea of what is available and then set your budget. This step will save you a lot of time because you'll still have plenty of rings to look at later, but you won't have to look at every ring in the store.

Educate yourself about diamonds. Become acquainted with the four C's of diamond quality. When you know the basics of cut, color, clarity and carat weight, you can compare diamond values while shopping. For example, if you like the size of the diamond in a ring, but you wish it had better color, your knowledge will help you decide if choosing a slightly smaller diamond with better color would be a good decision. Refresh your memory if you already have some jewelry education. Then you'll have the latest information before you start shopping.

Check out her personal style. If you want to surprise your girlfriend with an engagement ring, some stealth research will help you choose one she'll love. You can get a few style hints from her wardrobe. Does she wear large pieces of jewelry or does she prefer more subtle accessories? Does she seem to favor white gold over yellow gold, or yellow diamonds over white diamonds? A woman who loves vintage clothing and accessories may be delighted with an ornate estate ring, while a simple eternity band encircled with princess-cut diamonds makes a good choice for a woman who keeps her look sleek and modern. Finally, find out her ring size.

Make a list. After finishing your research, make a list of your engagement ring's must-have features. Include the budget, ring size and materials. Make a note next to the ring size that reminds you to check the store's policy on ring sizing and returns. Use your research on diamonds and style to choose materials, such as metal color and gemstone cut, color and size. You can list just the basics -- yellow gold band, 1-carat white diamond -- if you want flexibility, but you can be specific, too. Wedding jewelry includes almost any design imaginable, so being picky won't keep you from finding the ring you want.

Buy Engagement Rings
Back to Guides Directory