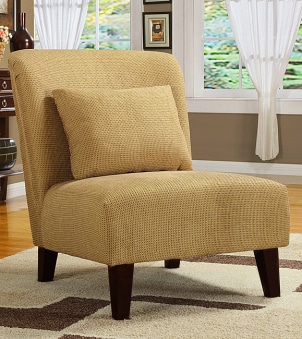 Adding fashionable and decorative accent chairs completes the overall design of any room. An accent chair's practical purpose serves mainly as extra seating, but these chairs are also considered valuable for their decorative appearance. Accent chairs come in many different designs and colors, so no matter your fashion preference, you're sure to find the perfect chair for any room. A small room may look best with only one accent chair, while a large room may accommodate two or even three or more with ease. Refer to this article to learn how to buy accent chairs.
Buying Accent Chairs:

Brainstorm the type of accent chair you want. Would you prefer something small and delicate or sturdy and squishy? Do you want a stationary arm chair or a recliner? Think ahead so you know what to look for when you begin to shop. Knowing the type of chair you want will save you time while shopping. An accent chair can be ornate or plain, but it should complement the style of your present furniture.

Observe the decor. Take note of specks of color in lampshades, rugs, wallpaper patterns and window coverings. You may be able to bring out these colors with the right accent chair. A good accent chair adds to the charm of the room. It shouldn't overpower a room's decor or compete for attention as the main feature. It should complement the other furnishings.

Map out the location for the chair. Accent chairs come in many different sizes, so you need to know how much room you have to work with. To get a good idea of the size of chair you will need, place another chair in the proposed position (like a kitchen chair) and take notice of how it fits into the space. To be absolutely certain of available space, get out your tape measure and measure your space. Write down the dimensions so you have them when you start shopping. Choose your chair size accordingly.

Set a budget. Decide on a price range and remember your budget when you are shopping. This will help to cut down the number of recliners and accent chairs to look through, and you'll be able to find your perfect accent chair much quicker.

Complement existing furniture. Look for fabrics and wood types that match or complement your existing furniture. Many manufacturers make companion pieces, and you may find a compatible accent chair to exactly match your furnishings.

Pick a style you like. There are plenty of great deals out there on accent chairs, but make sure you like the style you buy. Avoid buying an accent chair based solely on price. It might be a great deal, but unless you love it, don't feel pressured to buy it. With all the choices of leather accent chairs, wooden or upholstered accent chairs, there's definitely one out there that you'll love.

Buy Accent Chairs
Back to Guides Directory