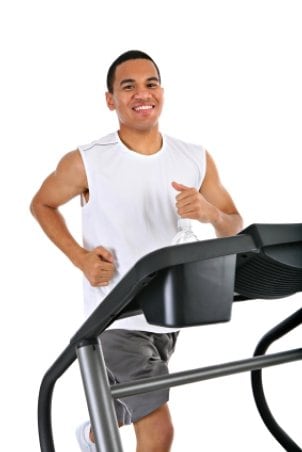 Purchasing any type of home gym machine requires some thought and research. You will need to decide on the brand of exercise equipment that works best for you and the number of special features you require, among other considerations. This is particularly important when choosing a treadmill, especially when you're buying your home gym machine online. Decisions about buying a treadmill online should be made carefully, considering the use the machine will get, the space in which it will be placed and the budget range set for the purchase.
Buying a Treadmill:

Decide on your reasons for purchasing the treadmill. If you want to increase your fitness level and use the treadmill to walk every day, then a fairly simple machine will work for you. However, if you are training for a marathon or other vigorous sport, then a more high-tech, elaborate treadmill might be your best bet.

Research the features offered on treadmills. Treadmills come with so many different bells and whistles that it can be difficult to determine which ones fit your needs. If you plan to use the treadmill for high-impact daily exercise, you will want a model that comes with a timer, heart-rate monitor and a fan to help keep you cool. If you are an exercise novice, a treadmill with program features that explain the type of workout you will get might be best. If you get bored easily, a model with a flat-screen TV would be perfect. Before you decide on a model, take into account your personal preferences.

Look around online and pinpoint the three to five models that might work best for you. There are many models online from which to choose. Once you've identified several "finalists," it is a lot easier to compare and contrast the different features and extras that may make a particular model stand out.

Keep price considerations in mind. As you delve into the shopping process, it may seem very tempting to spend more money on one of the newer, more advanced models, but if your needs are basic and you don't plan on having increased needs in the future, a basic model may serve you well while saving you money.

Pay attention to treadmill dimensions. You need space to have a treadmill in your home. While some of today's models fold up and fit easily into a closet or behind a door, there must be enough space in one of the rooms in your home to set it up when it's time to exercise. Before you purchase a specific model, look at the dimensions and then compare those to the available space in your home. It is important that the dimensions of the machine be at least a tiny bit smaller than the measurements of your space.

Buy Treadmills
Back to Guides Directory