by G.K. Bayne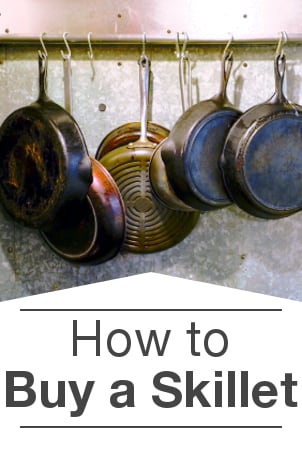 SHOP SKILLETS NOW >>
Whether you're frying eggs or making a gourmet meal, you need a quality skillet to cook with. Some of the most frequently used cookware items, skillets are made of various metals, with or without nonstick coatings. You can also buy an electric skillet to cook breakfast or dinner foods quickly. With the many skillet options available, you may be unsure of the right pans to buy. This guide will provide you with tips on buying the best skillet for your kitchen.
Buying a Skillet:

Think about what you plan to use the skillet for. A large skillet used for one-dish meals may be more than you need for sauteing a few onions. A 12-inch skillet may be perfect for cooking a large steak but overkill for making a grilled cheese sandwich. Likewise, a small skillet is fine for two eggs but not big enough for multiple chicken breasts.

Choose metal, nonstick, or coated. Metal skillets, including a cast-iron skillet or stainless steel skillet, are great for browning and cooking meats but do require the addition of some type of fat in order to keep foods from sticking. A nonstick skillet is great for sauteing or frying eggs when you do not want added fats. Coated skillets, either enamel or ceramic, can handle either method of cooking.

Check out the handles. Look for handles that remain cool when you use your stainless steel skillet on the top of the stove. Keep in mind that you may want to place your 12-inch skillet in the oven to finish the cooking process. Avoid a cast-iron skillet with wooden handles for this reason. You'll also want to be careful using a small skillet that doesn't have rubberized handles.

Decide between sloped and straight sides. A straight-sided skillet pan often comes with a lid and is perfect for braising meats and cooking full meals. To fry eggs or brown hamburger, buy fry pans with sloped sides; a large skillet with this design is great for frying because it is easier to slide a spatula beneath the food for turning.

Set your budget. Skillet pan prices start under $30 and can go up to more than $200. The more expensive versions are not always the best; the best skillet for you depends on your cooking style. You can often find a quality, affordable electric skillet, and you're sure to find a great price on a durable nonstick skillet for everyday cooking.

Shop Skillets
Shop Cookware Sets
Shop All Cookware
See All Guides
Read More Kitchen & Dining Guides
Learn More about Cookware
Published April 29, 2010
Updated March 18, 2015