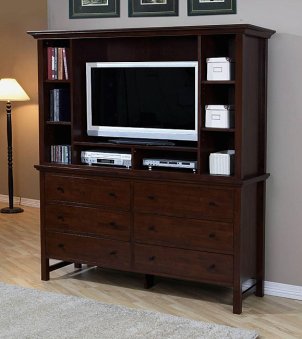 An entertainment center is often the focal point of a living room, especially for families that spend much of their time watching movies, playing video games or enjoying weekly sports events. Before purchasing an entertainment center, think about the needs you will have for it, including storage options for movies and video games, the size of TV you will use and shelves you may need for game consoles, DVD players or stereos. Look below to learn how to buy a quality entertainment center.
Buying Entertainment Centers:

Determine the size you need. Determine the ideal size entertainment center you need and whether you have the space for it. To determine what size is best, keep in mind the number of items you will store in the entertainment center.

Measure your TV. Measure the TV that you will place in the entertainment center. Any center that you purchase should have a TV opening that allows the TV to easily fit inside, with some room on each side in case you purchase a larger TV in the future.

Pick a material. Decide which type of material you would like the entertainment center to be. Natural wood is an excellent choice and can be stained in a variety of colors to match other furniture in the room. The most popular choices of wood include mahogany, cherry, oak or pine.

Look at the features and specifications. Examine specifications and features before purchasing. There are many things to look for in an entertainment center. Check product assembly notes for items like screws, dowels, shims or dovetails included during assembly that will reinforce joints. High-quality drawers should feature metal gliding rails for ease in opening.

Check out the storage options and style. Look at the cabinet doors or drawers for storage options. If you are neat and organized, an entertainment center with glass panels will give the room a modern, open feel. For a more traditional look, stick to solid wood centers that are simple in design and feature open shelving, which will offer you places to put equipment, movies, video games or other room decor. Depending on the other furniture in the room, try to match wood tones to prevent a mismatched look. Popular wood stains include red mahogany, cherry, pine, golden oak, walnut and pecan. If you are looking for a modern-style entertainment center, metal and glass offer a sleek, clean aesthetic. Modern entertainment centers often come in a black, stainless steel or brushed aluminum, and feature glass shelving to place the TV and equipment on. Low-profile entertainment centers, which feature one to two shelves and a platform for the TV, are ideal for small spaces because they do not take up valuable wall or floor space.

Buy Entertainment Centers
Back to Guides Directory