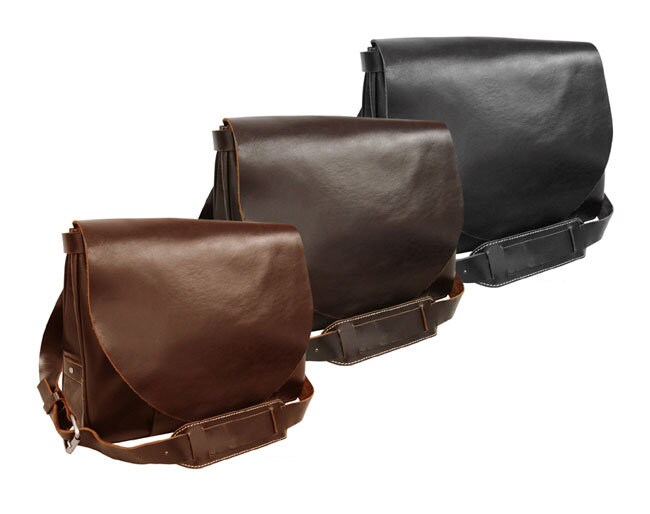 A messenger bag has one wide strap and is worn over one shoulder, wrapping around your chest on one side and lower back on the other. Messenger bags resemble those used by postal carriers and other couriers, hence their name. Because of their styling, messenger bags can be a great alternative to a backpack, making it easier to carry large items or numerous items without straining your back or shoulders.
Instructions:

Consider what you will carry in your messenger bag. This will help you determine the size and shape you require. If you are looking for a laptop messenger bag, the bag will need to be wide enough for the computer and large enough for your laptop accessories, such as a cooling pad or power supply. Measure your laptop or other items and be sure to add an extra inch or two, so you can easily slide them in and out of your bag.

Take into account how much protection you need a messenger bag to provide to the contents. If you will be carrying expensive electronics or delicate items, you may want a messenger bag that is padded to protect your valuables. You may also want a bag with a padded shoulder strap, especially if you plan to carry heavy items.

Keep in mind how and where you will use your messenger bag. If you walk or bike most of the time and are occasionally caught in bad weather, you might want a messenger bag made of waterproof material, such as nylon or PVC. However, if you plan to use your messenger bag to carry items from office to office or while traveling, you might want to consider a leather messenger bag, which is durable and looks professional.

Write down a list of items you want to carry in a messenger bag. This will help you choose a bag with sufficient pockets and closures. If you want to use a messenger bag as a diaper bag, you may want a special pouch to hold wipes or bottles. If you want to carry school items in a messenger bag, a special compartment for pens and pencils would be beneficial.

Consider your personal sense of style when you choose a messenger bag. You will likely be carrying your messenger bag regularly, so you will want something that coordinates with your wardrobe. For example, if your clothing is typically casual, you might choose a denim or canvas messenger bag with a colorful print.

View All Messenger Bags
Back to Guides Directory