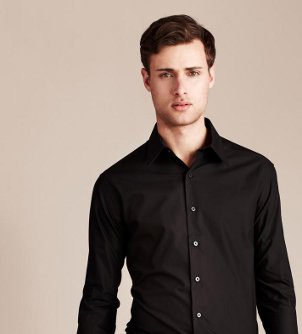 Whether you are looking for a shirt to wear to the office or just something to dress up your weekend style, this men's dress shirt guide will walk you through the features to look for. Knowing how to buy the right dress shirt for the right occasion will help you achieve the look you're after, no matter how professional or casual. Learn about dress shirts and find the tips you need to polish your own style.
Buying a Dress Shirt:

Sizing: Shirt sizes are determined by two measurements: the neck girth and sleeve length. Use our men's measurement guide to help you get an accurate measurement. You'll then want to determine what fit you are. A standard (regular-size) shirt is the most common fit, while athletic fit provides a slimmer cut through the waist, and full-size shirts fit looser and longer for men with a larger stature.

Collars: There are several types of collars, and each one affects the look of the shirt. The most common is a straight-point, which has V-shaped points. This style is best for wear with a tie because the tie knot will be neatly framed between the collar points. A spread collar has a wider opening between the points, sometimes up to 6 inches. A button-down is least formal, with buttons to hold the points down.

Cuffs: The type of cuff your shirt has indicates how formal or casual it is. Barrel cuffs are the most common, with one or more buttons to secure the cuff. French cuffs are long and fold back to form a double layer and are secured with a cuff link. There are convertible styles as well that close with either a button or cuff link.

Style: If your office has a dress code, you'll want to take it into account when choosing a dress shirt. A strict business dress code typically requires white or blue dress shirts, while stripes and prints may be acceptable in offices with a business-casual code. For weekends, you can wear bright colors, patterns, and softer, more casual materials with a sports jacket or sweater.

Color coordination: If you're wearing a dress shirt with a pattern or bright color, you'll want to make sure it coordinates with your tie and suit. As a rule of thumb, keep shirts a lighter color than your suit. When you're pairing a bright solid or patterned dress shirt with a tie, choose a shirt that matches a highlight color in your tie's pattern.

Fabric: Most dress shirts are made of cotton because it breathes well, keeping you cool and comfortable under a suit jacket. Many cotton blends, such as cotton-Lycra, which gives the fabric a little stretch, are used to help prevent wrinkles. Linen is good for summer wear because it is extremely lightweight and breathable.

Weave: Dress shirts come in several different weaves, each with a different look and texture. Broadcloth is tightly woven to create a silky texture and lustrous finish, and poplin is popular for business shirts because of its lightweight crosswise-rib weave. Oxfords and twills are woven from heavier yarn for a thicker texture.
What Do You Want to Do Next?

Start Shopping for Men's Dress Shirts
See All Men's Shirts
See All Guides
Read More Clothing & Shoes Guides
Learn More about Men's Clothing