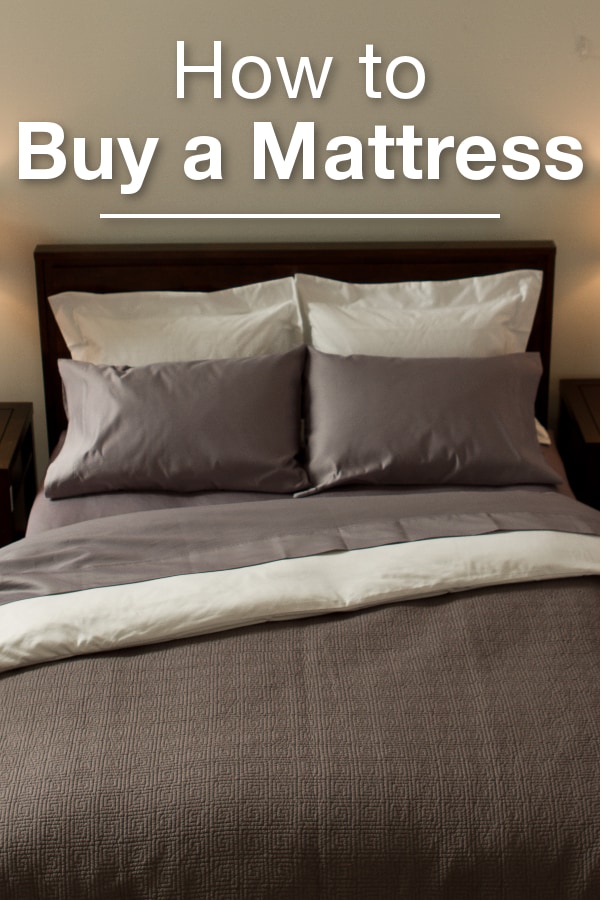 SHOP MATTRESSES NOW >>
Your bedroom furniture may be beautiful, but your mattress is actually the most important part of the room. Sleep has an effect on memory, work performance, mood, and productivity. A poor mattress can result in nighttime waking and pain, both of which interfere with getting adequate rest. Here's how to choose the best mattress, so you'll wake up rested and feel better throughout the day.
Choose Your Perfect Mattress:

Think size: Generally, one person can use a mattress as small as a twin or full (also known as a double). Two people need more space to avoid getting cramped and uncomfortable; choose a king or queen mattress to offer you and your bed partner enough room to sleep comfortably. California king mattresses are longer than the standard king-size mattress, which is especially beneficial for taller sleepers. For help choosing the best bed size, read our bed size fact sheet.

Consider any issues you may have: While your mattress certainly won't cure you of any illnesses, it can help you find relief from some issues you may struggle with. Think about the sleep-related problems you have and see if there is a type of mattress that is recommended for it.

Best Mattress for Your Concerns:

Back pain: Bad backs benefit most from the support available in a firm mattress. You'll find many firm memory foam and gel memory foam mattresses available; the higher the density number, the firmer the memory foam will be. Pocketed coil spring mattresses are also quite supportive. Look for a mattress with adjustable firmness for each side if you and your spouse have different firmness preferences.

Allergies or asthma: If you have asthma or allergies, you'll benefit from synthetic fibers and filling; avoid cotton batting, which can aggravate your allergies.

Arthritis: Memory foam, latex foam, and pillow-top mattresses provide the best cushioning for arthritic joints. Mattresses described as plush or plush firm would work well.

Trouble falling asleep or staying asleep: Many memory foam users find they fall asleep more quickly than they did on other mattresses. Because memory foam doesn't transfer movement, many people also find they stay asleep more, especially if their partner's movements had been waking them up before.

Look inside: Different types of mattresses affect how you sleep. A spring mattress will be the least expensive and most common type of mattress you'll find; spring mattresses range in firmness and are the best option for side sleepers. Memory foam mattresses conform to the body and provide support to all pressure points, leaving you fully rested when you wake up. Gel memory foam has the same support as regular memory foam, but the infused gel beads allow for increased air flow, which helps cool down people who usually get too hot while they sleep. Latex foam mattresses are much like memory foam but with slightly more spring to them; they're also made of an eco-friendly material.

Determine your price range: Mattress prices range from a few hundred dollars to several thousand dollars. Once you have decided what size and type of mattress is best for your body, you'll need to narrow it down by what's best for your budget.

Shop Memory Foam Mattresses
Shop Pocketed Coil Spring Mattresses
Shop All Mattresses
See All Guides
Read More Bedding Guides
Learn More about Mattresses
Published April 29, 2010
Updated March 31, 2015