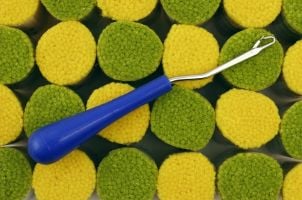 If you're looking for a unique crafting project or a great gift, latch hook kits may fit the bill. With latch hook rug kits, you can make a lasting needlework project for your home or as a surprise for a friend. Read on for tips on buying latch hook kits.
Buying Latch Hook Kits:

Consider skill level before purchasing a kit. If you are just beginning latch hook crafts or are buying a gift for a beginner, simple latch hook designs are best. Look for latch hook rug kits that use only a few colors and have a defined shape. For children, needlework kits with animal designs and bright colors are appealing and simple to use. Adults may also like animal-related patterns and floral latch hook designs that have clean lines; the patterns are easy to follow. Kits include latch hook yarn and all tools you need to create a beautiful finished project.

Look for a pleasing pattern. If you are more skilled at latch hooking, there are plenty of advanced patterns with intricate, colorful designs. Look for a detailed white tiger pattern that would make a beautiful rug or wall hanging in your home. A cornucopia latch hook pattern with vivid fruits and vegetables would make a lovely autumn centerpiece as well. Look for designs that make use of colorful latch hook yarn for a bright rug that makes a statement wherever you place it.

Choose a shape and size. A latch hook rug can vary in size, but most are between two feet long and three feet wide, making them an ideal size for placing on the floor or hanging on the wall as a focal point. While most are square, many rugs also come in oval or circular shapes, and crescent shapes are also common. Determine whether you plan to use your latch hook rug on the floor or as a decoration so you know which shape and size will work best for your home.

Buy seasonal designs to make for gifts. For a special handmade gift for children, grandchildren and friends, purchase a latch hook pattern that fits the season or occasion. Make latch hook rugs with colorful blocks and bows to welcome a new baby. Look for latch hook rugs with floral patterns that suit the spring and summer months. Latch hook rugs with snowflakes and snowmen make wonderful winter and holiday gifts as well.

Buy Latch Hook Kits
Back to Guides Directory