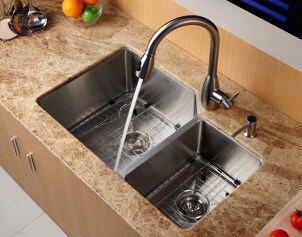 The kitchen is the heart of the home, and the kitchen sink is the heart of the kitchen. Kitchen sinks are an integral part of the design of a kitchen. Not only do they provide many of the necessary functions of a kitchen, they also provide a necessary design element to the home. There are many options to consider when buying a kitchen sink if you want to end up with a functional sink that works perfectly with the style and decor of the rest of the kitchen.
Buying a Kitchen Sink:

Mounting type: Top-mount sinks are the most traditional mounting type of sink and feature a rim or lip that sits on top of the counter. Under-mount kitchen sinks are mounted underneath the countertop with no lip to catch dirt and debris, making it easy to clean. Apron kitchen sinks have an old-fashioned farm style with the front side of the sink exposed rather than hidden behind a counter and cabinet.

Size: Measure your space to gauge how big your kitchen sink needs to be. Standard sinks are usually 22 inches by 30 inches in size, though they can be bigger. Consider the overall kitchen size and design before choosing a sink size.

Material: Choose a kitchen sink material that fits with your overall design. Stainless steel is popular for its durability. If most of your large appliances, hardware or fixtures are stainless steel, a stainless steel kitchen sink will match perfectly. Porcelain is also popular for its durability as well as its variety of colors to match many designs. Granite is more expensive, comes in many colors and has an elegant, trendy look.

Configuration: Purchase a kitchen sink with the amount of bowls you need for your work flow. Single-bowl kitchen sinks have one big bowl that works well when you have large pans, though it takes away the option for a separate bowl for rinsing cleaned dishes. Double-bowl sinks give you that extra option, and triple-bowl sinks can be used for handling multiple wash jobs.

Optional features: Consider whether you want an optional sprayer along with your faucet. Some kitchen sinks do not provide the extra space to accommodate a sprayer. If you know that's something you want, make sure that the sink you choose will allow for sprayer installation.

Buy Kitchen Sinks
Back to Guides Directory