by Sadie S.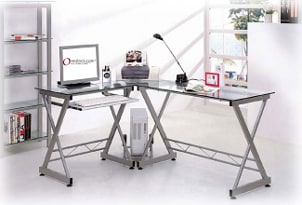 When buying a computer desk for your home office, it is easy to become overwhelmed by the variety of sizes, designs, styles, materials and price tags on the market. But, if you learn a few basic facts about computer desks, consider the role the desk will play in your home and determine your price range, you should be able to find the right home office desk that fits your budget and still provides you with everything you want.
Buying a Computer Desk:

Decide where you want to place the desk in your home. Then measure the space, leaving sufficient room to turn corners without bumping into the desk. If you plan to sit behind the desk while facing the room, add at least four additional feet to your measurement so that you can pull your chair out without knocking into the wall. You will also want to consider other home office furniture you plan to put in your home office, like a filing cabinet or bookshelves.

Check your finances. Decide how much you can afford to spend on your computer desk. Shopping with that figure in mind will keep you from falling in love with a computer desk that costs more than you want to spend.

Consider what the top of the desk will hold. Maybe your desk will hold just a laptop and a few papers, so a small corner desk will work fine. If you want it to support a monitor, PC tower, printer, modem and books, then a larger, L-shaped computer desk might be the solution. This decision will help you determine the required strength of the desk and the type of materials from which it should be constructed. Make sure the desk you choose won't bow in the middle if burdened with too heavy a load. For a sturdy desk, look for furniture made of hardwoods, like oak and mahogany, or metal.

Explore styles of computer desks. Decide whether you like the clean lines of a glass work station, the more formal look of an executive desk, the rich design of an armoire desk or the contemporary look of a computer desk made of oak or with a black finish. Decide if you want your computer desk to match your existing furniture; then determine if you prefer a small, compact work station or an L-shaped, U-shaped or corner desk.

Determine the types of items you want to store in and around your desk. Computer desks can contain hutches, drawers, shelves and file cabinets, any of which offer storage and help you avoid clutter on your work surface.

Buy Computer Desks
Back to Guides Directory