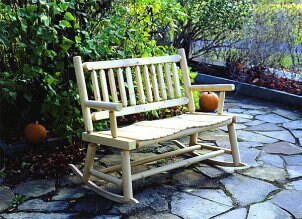 A garden bench is a great place to sit when you want to relax and admire your garden. At night, you can gaze at the stars from the comfort of your garden bench. There are many different outdoor benches to choose from when you're ready to purchase one. The designs, materials, sizes and colors vary greatly from bench to bench. With proper preparation, you should be able to find the perfect outdoor bench for your yard.
Buying Garden Benches:

Backyard design: Evaluate the design of your garden or back yard. The color of the garden bench can complement or contrast with the design scheme of your yard. Choose light-colored outdoor furniture made of cedar if your garden contains a lot of white items. Pick garden furniture with a darkly stained finish or a black wrought-iron bench if this better matches your decor.

Size: Measure the desired area to determine how large you want your garden bench to be. Take plants into consideration when measuring. If you have young bushes or trees in the area, think about how large the plants are likely to grow.

Material: Choose a material that suits your garden design as well as your budget. Most garden benches are made of wood. Mahogany benches will usually cost more than those made with cedar. For increased durability, choose wooden garden benches with steel or wrought-iron frames.

Special features: For added comfort, consider garden benches with water-resistant cushions. Even though these cushions are meant to be used outdoors, they should still be taken indoors during heavy rains or winter conditions. Avoid cushions if you don't want the added responsibility of taking them in during adverse weather or washing them when they become dirty.

Added conveniences: Some benches can also be used for added storage with a fold-up seat that provides a storage box. Others come with trays on either side of the bench for guests to place drinks on while seated on the bench. Although these perks often raise the price, they may be worth it because of the added convenience.

Buy Outdoor Benches
Back to Guides Directory