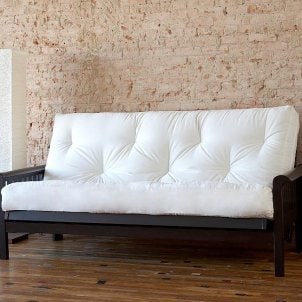 Do you need comfortable seating as well as a sleeping area for yourself or guests? You may have thought futons were only meant for dorm rooms and studio apartments, but they're actually the perfect solution for any home that needs a place for people to both sit and sleep. Futons are usually less expensive and lighter than sofa beds, as the futon uses the same frame and cushions for each function. If this sounds appealing to you, these tips will be helpful while you're shopping.
Buying a Futon:

Consider the size. The length of the futon you choose will depend on how much room you have in your home. Most futons are the size of a double bed (also known as a full-size bed) when they are unfolded. If the futon does not have armrests, it will be around 67 to 70 inches long. If the futon has armrests, this will add a few inches. Measure your space first and determine which would fit best.

Consider the style. Gone are the days when futons all looked the same. These days, you can find modern futons, mission style futons, feminine futons, and more. If you don't see something that suits your taste right away, keep looking. With so many options, you're sure to find just the right thing.

Look for an all-in-one futon. If the futon includes both the mattress and the frame, you won't have to worry about finding compatible pieces. These are made to be durable and last as long as a conventional sofa made of similar materials would.

Or buy the futon frame and mattress separately. If you can't find a complete futon bed set that you like, this is a good way to get just what you want.

When You Buy The Pieces Separately:

Choose a good mattress. To support an adult, a futon's mattress should be at least six inches thick. A mattress that is too thin will lead to uncomfortable and perhaps sleepless nights. Futon mattresses with inner springs offer a greater level of support than those with just a fiber filling. A mattress with cotton batting and foam will also provide a reasonable amount of support and should hold its shape over time.

Choose a frame. Choosing a suitable frame is as important as choosing the right kind of futon mattress. A hardwood or steel futon frame will be more durable than a futon frame made from aluminum or particle board. Also consider how well the frame will match the rest of your furniture before you make your final purchase.

Protect your futon's mattress with a washable cover. A futon cover will protect the futon mattress from spills and stains. The mattress is usually covered in a thick canvas material, but spills may still seep into the futon filling, causing mildew and other problems. Washable futon covers are made to protect the mattress, and you can purchase them in a variety of materials, including microsuede, leather, and cotton. Additionally, a new futon cover can update an older futon.

Buy Futons
Back to Guides Directory