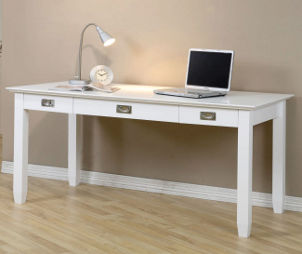 Brighten up your office, homework area or craft table with a quality desk lamp. Whether you want a bright LED desk lamp for working on math late at night or a contemporary desk lamp that lets you see colors clearly while you paint, the right table lamps can make work easier and add to your decor, too. Read on for tips on buying a desk lamp.
Shopping for a Desk Lamp:

Find the perfect size. If you're sharing a dorm room with a roommate, a clip-on desk lamp may be just what you're looking for. It's small, can be moved easily and doesn't take up much space. A clip-on desk lamp can make even a nightstand into a workspace. If you have a large desk in your office, however, why not spruce it up with a handsome bronze desk lamp? An adjustable desk lamp with a flexible head and neck can fit a medium-sized desk.

Consider brightness. Choose an LED desk lamp when you want a bright light fixture for doing homework or reading in bed. This lamp style is also efficient; you won't have to frequently change light bulbs since LED bulbs last for years. A fluorescent desk lamp works great for sewing, writing, scrapbooking and performing other tasks that require attention to detail. Keep bright office desk lamps on your desk if you'll be working late hours at work so you can see clearly.

Pick a style that works with your decor. While you may be tempted to buy an antiqued bronze desk lamp for your writing desk, it may look out of place if you have a casual, laid-back decorating style. A contemporary desk lamp in black or white complements a neutral color palette and blends well with even eclectic furniture and patterns. If you want something more unique, shop for a swing-arm desk lamp made of chrome or steel. These lamps can give your home a vintage vibe or even a modern feel, depending on your other decor.

Check the recommended wattage. Though you can replace low-wattage light bulbs with higher ones, this can make a fixture too hot and damage your lamp. Be especially careful with fluorescent desk lamps, as high-wattage bulbs can also become hot. To avoid any potential dangers, turn off your desk lamp if it begins to get very warm. Make sure you also move your desk lamp away from papers, curtains and other flammable objects when it's hot.

Buy Table Lamps
Back to Guides Directory