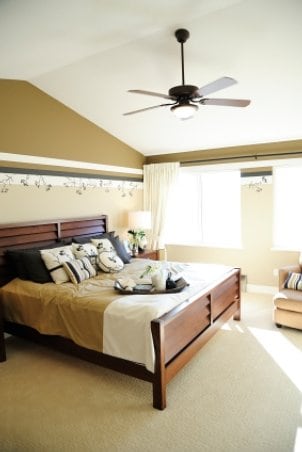 With its low electrical cost, a ceiling fan is a very efficient cooling solution for the home. Indoor ceiling fans use about as much energy as a 100-watt light bulb and can greatly reduce your home cooling expenses. The cooling effects of a ceiling fan not only save you money but let you keep your windows open longer, allowing more fresh air into your home. A ceiling fan can also be used, if it has a reverse mode, to help defray heating costs in the winter. With all of these benefits, there's no reason not to find the best ceiling fans for every room in your home. Read on for suggestions that will help you buy ceiling fans for your home.
Buying a Ceiling Fan:

Get the right height. Measure the height of the ceiling where you want to place your indoor ceiling fans. Ceiling fans can be hazards if hung too low, and they will often hang down 18 inches or more from the ceiling. You may need to buy hugger ceiling fans, which are designed to "hug" the ceiling, if you have a low ceiling. However, if you buy ceiling fans to place over a table, you won't have to worry as much about the length from the ceiling or about hitting your head on it as you walk by.

Decide whether you want an indoor or outdoor fan. Ceiling fans aren't meant for just the inside of your home. Outdoor ceiling fans are a great way to keep your covered patio or front porch cool during the summer. When you buy outdoor ceiling fans, look for styles made with water-resistant or waterproof materials; even the best ceiling fans can be damaged if they become damp or wet.

Consider buying lighted styles. A lighted ceiling fan will provide extra style and illumination to any room, especially a dim living room. You can find a lighted ceiling fan with pull cords to turn the light on or off, or you can even buy remote-control ceiling fans to control both light and fan functions without walking across the room. However, models without lights tend to be more compact, so you might want to consider buying a hugger ceiling fan without lights if you are worried about the fan hanging too low.

Pick your style. Ceiling fans come in a variety of colors and finishes. Solid white gives a clean look in a kitchen, while brushed nickel ceiling fans add class to your bedroom or dining room. Remote-control ceiling fans are perfect for larger rooms, and ceiling fans with matte black or pewter finishes will work great in a modern office. The same brushed nickel ceiling fans you hang in your bedroom can dress up a living room or family room, too.

Buy Ceiling Fans
Back to Guides Directory