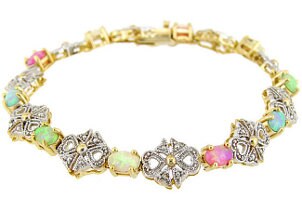 Personalization is the driving force behind our daily need to accessorize. One of the best ways to personalize your look is with birthstone jewelry. A birthstone bracelet features your birth month's gemstone and can be layered with other jewelry or worn alone for a simple, classic look. You have many options when shopping for a birthstone bracelet. You can buy a bracelet with authentic gemstones or save money on jewelry featuring cubic zirconias. Many styles exist to suit your personal jewelry tastes. Use these tips to buy the perfect birthstone bracelet for your collection.
Buying Birthstone Bracelets:

Settle on a style: All jewelry comes in a range of styles. Birthstone bracelets can be found in ornate vintage styles, sleek modern designs or funky futuristic patterns. You'll want to sport your birthstone bracelet often, so be sure to choose one that goes with your other jewelry and all of your favorite outfits. If you'll be layering your birthstone bracelet, compare styles to find a versatile one that can be layered with bracelets of many different fashions.

Choose your shine and color: Each month has at least one birthstone, and several months have three or more birthstones. Visit our birthstone options for each month guide to choose your favorite gemstone that represents your birth month. Authentic gemstones may be just what you are in the market for. Some birthstone gems can have special meaning, and many gemstones are even believed to have healing powers. If you want a birthstone bracelet that is a bit more luxurious, consider colored diamond bracelets. Choose the color that represents your birthstone and enjoy the bracelet for a lifetime. If you're on a budget, cubic zirconia birthstone bracelets are beautiful and wonderfully affordable.

Pay attention to details: Once you have chosen your style and your favorite stone, be sure to pay attention to other details. Consider a bracelet made of a high-quality metal like sterling silver, gold or platinum. Gold-plated bracelets are a lovely, affordable alternative. Look for clasps and styles that are easy to put on and fasten on your own; stretch bracelets are popular for this reason. Extra embellishments, like beads, crystals and trinkets, add charm to a birthstone bracelet.

Buy Bracelets
Back to Guides Directory