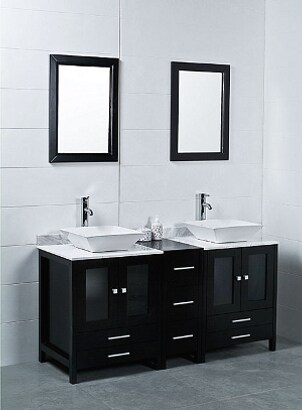 Few pieces of furniture will enhance your bathroom like a new bathroom vanity. It's usually the first thing you, or your guests, notice in the bathroom. A striking vanity can easily redefine a boring bathroom into one of the more interesting rooms in your home. Before you shop, follow these simple steps to choose the perfect one.
Buying Bathroom Vanities:

Measure the space. Keep the dimensions in mind. Buying a vanity that is too big for the space is obviously a mistake, but also be aware of buying a vanity that doesn't appropriately fill the space. If more than one person uses that bathroom, measure to see if the room can handle a double vanity, which may be 80 to 90 inches wide or more, or if there is room for a single vanity, which could be anywhere from 20 to 48 inches wide.

Determine what you want. If your vanity is going to be in your master bathroom, you will probably want a vanity with lots of storage and counter space to make getting ready in the morning easier. If the bathroom will be used by overnight guests or your children, some storage is nice, but you probably won't need a lot. In a half bath, where little storage is needed and many guests will be using it, sacrificing storage space for style might be a good option for you.

Choose a style. Choosing the style of your bathroom vanity can be relatively easy, because you likely won't have to match it to other pieces of furniture. Bathrooms are somewhat separated from the rest of the home, so you can diverge from styles that are present in the rest of the home. It might be your chance to try for a contemporary look, even if the rest of your home is more traditional.

Pick your options. Do you want a double sink to make getting ready in the morning easier? Vessel sinks are striking but can be less functional for preparing in the morning, so consider them for guest bathrooms. Vanities also have a wide range of storage options and faucet styles.

Choose your materials. Most bathroom cabinets are wood, but the finishes have a wide range of colors. Bamboo cabinets offer a unique look while also being environmentally friendly. Countertops are usually made of some type of stone, granite being the most popular, but some modern styles use glass.
What Do You Want to Do Next?

Shop Single Vanities
Shop Double Vanities
Shop All Bathroom Vanities
See All Guides
Read More Furniture Guides
Learn More about Bathroom Furniture