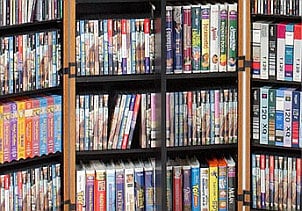 Things You Need:
Nail gun
Nails
Tape measure
Plywood boards
Pencil
Sandpaper
Paint, multiple colors
Angle bracket
Hammer
Building a DVD storage unit for kids is a fun and innovative way to involve the whole family in a home improvement project. Additionally, the end result will provide your kids with a sturdy, easy-to-use home for all of their children's movies. You will need to have a basic-to-intermediate knowledge of tools, such as a hammer, nail gun, tape measure, sandpaper and paint. In total, the project should take about 24 hours to complete. After constructing the DVD storage unit, let your kids add their favorite kids' DVDs and organize them in their own special way. Below, you'll find a list of things you'll need as well as a set of step-by-step instructions for completing your project.
Building DVD Storage:

Measure your space. Since the average kid is about 3 feet tall, you'll want to build DVD storage< that is no taller than 4 feet. However, if you have multiple kids, then a wider and longer unit may be useful. For these directions, the DVD storage unit will be 4 feet high by 6 feet wide by 4 inches deep.

You will need two 4-by-4 pieces of plywood and five 6-by-4 pieces of plywood.

Begin construction on your unit by sanding down any rough edges of the plywood.

Lay out the top, bottom and sides of the DVD unit:

A. The top and bottom pieces should be two of your 6-by-4 boards.

B. The sides should be your two 4-by-4 boards.

Create the frame of your DVD unit:

A. Make a large box out of the top, bottom and side boards.

B. Nail the frame together at each corner to secure the boards to each other.

Add the shelves:

A. Beginning with one side piece (4-by-4 piece of plywood), start from one end of the board and measure up one foot. Make a small "X" on the board; use the side facing the inside of your box frame. This is where you will to place your shelves (the 6-by-4 plywood boards).

B. Repeat on each side piece measuring in one foot increments along the board. You will end up with a total of three markings along each side piece.

C. Place your shelf boards -- the remaining three 6-by-4 pieces of plywood -- inside the larger box frame right over the X marks you just made on the side pieces.

D. Nail the shelves in place using two nails per side on each board.

Stand the completed media storage unit up on one end. Check for loose boards. Add additional nails as needed until the boards are secure.

Have your kids paint the media storage with any color they choose. Be creative!

Once the paint is dry, set the unit against the wall where you want it to stand.

Secure the unit to the wall using an angle bracket, hammer and nails.
Warnings:

Never leave children unattended with power tools.

Always secure power tools in the off position when they are not in use.

Buy Children's Movies
Back to Guides Directory