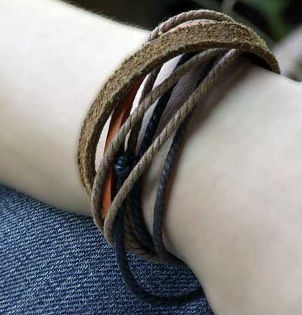 Things You Need:
Material to be braided
Beads and charms
Scissors
Tape measure or ruler
Braiding has existed for thousands of years as a basic way of joining cords, hair, ribbon and many other types of material. It has practical uses as well as decorative applications. The practice of braiding bracelets has been around just as long as braiding other materials but has enjoyed a surge in popularity in recent years. Braids remain a popular design because of their simplicity and elegance. Braiding is a trendy way to create friendship bracelets as well as fancier accessories, and braided jewelry can be worn by men or women. By learning how to braid a bracelet, you can create beautiful jewelry to wear or give as gifts. All it takes is some basic jewelry and beading supplies and a basic understanding of the braiding technique. You can then experiment with types of braided jewelry and accessories and create wearable works of art in many styles and materials such as cord, embroidery floss, leather, hemp and ribbon.
Braiding Bracelets:

Braiding a bracelet is a basic process that can easily be learned by anyone. Many people are already familiar with the process of braiding. Maybe you've spent time braiding hair or tying simple knots. Both of these practices will have prepared you for learning how to braid a bracelet. Once you have gathered your materials and tools, you should measure out three lengths of your braiding material. Be sure to make the material long enough to fit your wrist after it has been braided, and also leave room for tying or attaching a clasp. The recommended length for an average-sized adult wrist is 33 inches. Keep in mind that having too much material is always better than having too little, as you can cut the bracelet down to size after braiding is completed.

With your materials cut to the right size, you are ready to start braiding. Before you begin braiding bracelets, you should tie a knot at the top of your leather, hemp, cord or floss and make sure that each piece is the same length. The process of braiding starts by crossing the right string over the middle string, then crossing the left string over the middle string. Remember that each time you cross a string, the right, left and middle strings change position, but you always alternate crossing the right and left strings over the middle string. The steps are then simply repeated until you have braided the entire length of the bracelet. It is a good idea to stop periodically and check to see how the length is suiting your needs by holding the bracelet up to your wrist and checking the braid length. Once you have reached your desired braid length, tie the strings together to hold the braid in place and then tie the bracelet together or attach the ends using a jewelry clasp.

Now that you have an understanding of basic braiding, you can add to the process for more advanced braided and woven bracelets. There are many different embellishments that you can use while creating your bracelet including beads, letter blocks and charms. You can add these items while you are braiding to create a unique and beautiful bracelet to fit your personal style.
Braiding Tips:

More advanced braiding and weaving techniques can be learned by following patterns or using jewelry-making kits. These new techniques will give your jewelry a more diverse look and let you create a wide variety of bracelets, necklaces and other accessories for your collection.

Different types of materials can be used to enhance the bracelet, such as chains, ropes, and cords made of gold, silver and other precious metals. These embellishments are great for bracelets that you intend to give as gifts, as they make the bracelet extra special.

Buy Jewelry And Beading Supplies
Back to Guides Directory