How to Baby-Proof Your House
by Staff Writer
Published April 29, 2010 | Updated June 30, 2015
According to the Home Safety Council, babies and toddlers are most at risk of accidental at-home injuries, which kill more than 2,000 American children each year and hurt at least three million others. The newborn you bring home from the hospital will be crawling and walking before you know it, so it's a good idea to start baby-proofing your home before your baby arrives.
Baby-Proofing Your House: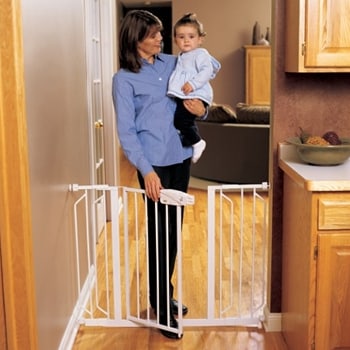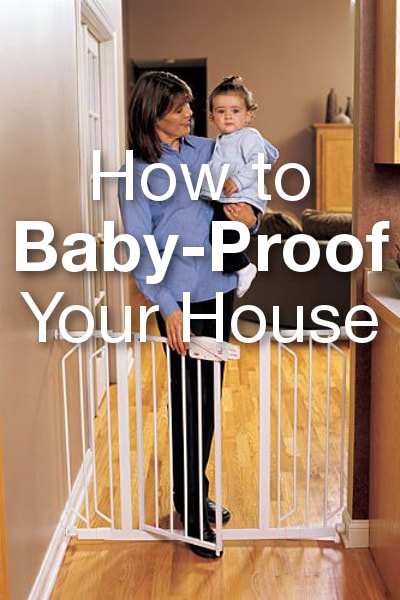 Shop Child Safety ▸
Use Cabinet Locks and Doors Handle Covers

Lock any cabinets, drawers, or closets that contain hazardous items using cabinet locks or door handle covers. Hazards include poisons, sharp items, alcohol, cleaners, vitamins, medications, paint, flammable items, small items that can cause choking, and any other item that could hurt a baby if eaten or touched. Consider placing a lock or handle cover on the door to one room, such as your home office, where items that are unsafe for a baby can be stored.

Put Away Hazardous Items

Move breakable items, houseplants, and choking hazards out of your baby's reach, making sure to consider the height of a typical toddler. To ensure that you have covered everything within reach, get down on your baby's level and survey each room of your home. Use the toilet-paper-tube test to check for choking hazards in the toy box and other areas. If an item can fit into a toilet-paper tube, it is small enough to be a choking hazard. Know the names of your houseplants in case your baby ingests one, as some are poisonous.

Cover Power Outlets

Cover all outlets with child-safe outlet covers. Buy child-safe power strips for areas where you need extra outlets.

Attach Furniture Straps

Secure large bookshelves and televisions to the wall with a furniture strap to ensure that they do not fall on top of a baby who is pulling up on them. Avoid placing heavy items on top of shelves or tables that baby might be able to wiggle.

Get All Cords out of Reach

Shorten cords of mini blinds, curtains, and shades to avoid any strangulation risks. Wrap up electrical cords and place them out of your baby's reach.

Install Gates

Install hardware-mounted safety gates at the top and bottom of any staircases in your home. If a door protects the staircase, install a safety latch or lock, so your toddler cannot open the door and fall down the stairs. Avoid purchasing secondhand baby gates and other safety equipment. Often, these products are no longer functional or safe. If you must purchase these items used, check recall lists before using them.

Use Window Guards

Invest in screen barriers for dangerous areas like fireplaces or radiators. Window guards will prevent your baby from falling out of the window if he pushes on the screen. Install sliding-window locks on any sliding windows or doors in your home.