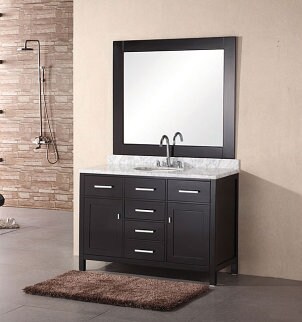 Your bathroom may be the busiest room in the house, but it doesn't have to feel like it. Taking the time to organize your countertops will not only save you time when you're searching for everyday items, but it will also give your home a fresh, put-together feeling. Bathroom vanities are easy to overload with clutter because so much happens there. However, following these simple tips will help you get around this dilemma.
Bathroom Vanity Cleaning Tips:

Clean the vanity on a regular basis. Bathroom vanities should be cleaned on a regular basis in order to prevent and remove water spots, soap scum, and other stains. Use a clean rag and the appropriate cleaner for the materials your vanity is made of. Now that you have a clean vanity, you can start getting rid of your clutter.

Throw out the extras. Get rid of items you don't use. Don't just store them somewhere else; throw them out, recycle them, or donate them. You'll find that you have a lot more room for the things you do need.

Make the most of existing storage. Most bathroom furniture provides some storage, like drawers and cupboards. If your vanity does, then use this to your advantage. Storing bulky items, like blow dryers and towels, in vanity drawers and cupboards will give you more space on your counter and open up your bathroom, making it look cleaner, bigger, and more organized. Use drawer organizers to keep small items organized.

Add storage. If your bathroom vanity is the only bathroom storage area you have, consider adding a floor cabinet or a wall cabinet.

Assign areas to categories of products. Keep all of your hair products in one drawer and shaving supplies in another. Don't mix first aid supplies in with your makeup. You'll be able to find and access all your bathroom items easily when you keep them in one place.

Keep the basics where you can access them. The items you use on a daily basis should be kept out for quick and easy access. Some necessary items could be your toothbrush, face wash, and hand soap. Go through your other bathroom items and determine which ones you use on a daily basis and give them a place on your bathroom vanity. When you eliminate the number of items you keep out on the counter, you'll find you have plenty of room.

Put things away when you're done. Once you use your razor or hair spray, put it back where it belongs. This keeps countertops free from unnecessary clutter and makes cleaning a lot easier. If you have a morning where you're in a rush, take time that evening to put everything away; the next morning will go that much more smoothly.

Keep it simple. If you'd like to add some decorations to your bathroom, remember to keep it simple. Too many decorations can make bathroom vanities look cluttered. Matching toothbrush holders, soap dispensers, and tissue holders are decorative as well as functional, so you can add style without adding clutter.
What Do You Want to Do Next?

Shop Bathroom Vanities
Shop Bathroom Cabinets
Shop All Bathroom Furniture
See All Guides
Read More Furniture Guides
Learn More about Bathroom Furniture