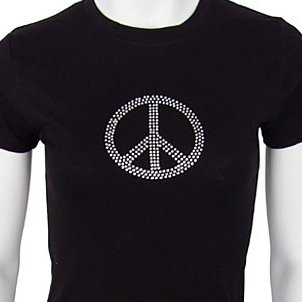 Things You Need:
Rhinestones
Fabric-safe, washable adhesive
Once you've mastered the art of decorating with rhinestones, you'll be able to quickly update the look of many items in your wardrobe and home. Rhinestones are a creative, fashionable and affordable way to add flair and sparkle to all kinds of crafts and clothing items. Take a look below to learn how to attach rhinestonesto fabric and crafts.
Attaching Rhinestones to Fabric:

Find the right rhinestones. Select flat-back rhinestones in the color of your choice. Clear crystal rhinestones are elegant and classic, but there are plenty of other colors to choose from. Make sure that you purchase stones that are not pre-coated with adhesive; these require a different technique to apply. Rhinestone sets come in various sizes. Some packages are sold by weight and others by the number of rhinestones they contain. The more you decorate with rhinestones, the better you'll become at guessing what size package you need.

Make room for the rhinestones. Using a pattern, mark the location for the rhinestones on the fabric with tailor's chalk or a washable marker. Make the mark small enough that the rhinestone will cover it. Use a pattern the first few times you attach rhinestones to fabric so you can get a feel for the craft. As you decorate fabrics with rhinestones more and more, you'll learn how to improvise and make your own patterns and designs.

Test the adhesive. Test a small amount of adhesive on a spare swatch of your fabric or in an inconspicuous place to be sure that it won't bleach, discolor or damage the cloth. Testing the adhesive will also show you if you have a good brand of glue.

Apply adhesive to the rhinestones. Using a toothpick, place a dab of adhesive on the back of the stone, making sure that it is spread completely and evenly over the back of the gem.

Add rhinestones to the fabric. Place the rhinestones on the fabric and press down gently to be sure they adhere. Don't move the fabric until the adhesive is completely dry. Continue applying the gems until the pattern is finished. Let the item dry for at least 24 hours before moving or wearing it.
Tip from Overstock.com:

Wipe your fingers often so that no glue gets on the fabric or the front of the stones. Depending on the amount of rhinestones your pattern calls for, be prepared to use several tubes of glue.

Buy Rhinestones
Back to Guides Directory