How to Assemble Baby's First Easter Basket
by Catherine Amo
It's never too early to introduce a child to holidays and family traditions, especially if you need an excuse to take family photos or buy extra gifts. Even though Easter baskets often contain goodies and treats meant for older children, you can easily create a wonderful and age-appropriate Easter basket full of baby gifts and necessities. Babies can enjoy soft toys, books, and Easter outfits. Parents can also select items that are related to the story of Easter that the child can grow to understand and value over the years.
Baby's First Easter Basket: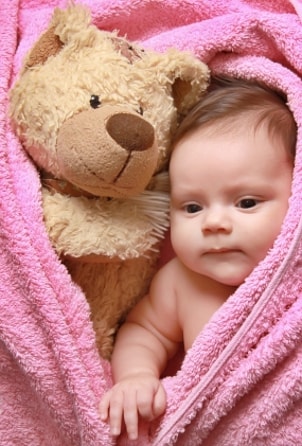 Shop Baby Gifts ▸
Pick a basket.

Since a rough wicker basket is probably not the best choice for a baby, make sure to look for one designed specifically with youngsters in mind. There are baskets made of quilted fabric and other plush materials, or you can go a less traditional route and use something the baby needs, like a bathtub or clothes hamper.

Choose contents for your basket based on a theme.

Let the contents of your basket center on a recognizable Easter symbol, like eggs, chicks, or bunnies or choose your own theme based on what your child likes (an animal or a cartoon character, for example) and build the basket around it.

Select a lining.

Fake grass is not a good idea for babies since they explore by putting things in their mouths. Consider using a soft, cuddly blanket or some burp cloths that can be layered as a lining, or simply go without a lining.

Add snacks.

Purchase some snacks and introduce your little one to new flavors. Cereals are always appreciated by the infant set, as are biscuits and crackers. If your baby is teething, add a biter biscuit or two, or a binky that can be put in the freezer and gnawed on to numb painful gums.

Choose some toys.

Select baby toys that match the child's stage of development or ones that will soon be age-appropriate. Good toys are designed to stimulate a child's mind and encourage mental and physical development. Look for toys that have lots of colors and textures and that make a variety of sounds. Toys that light up or move are also a good choice.

Add a book to the basket.

Choose books that will be fun to read to the baby or ones that are baby-proof, so your infant can enjoy them on his own. Board books are sturdy and often have rounded corners for safety while oversize books often feature intricate illustrations and more words, so parents can read to the child. Teething books have rubbery corners made for babies who want to chew on books. You could also include a book about Easter to match the basket's theme.

Select practical items for the Easter basket.

Although it is always fun to purchase toys for babies, consider purchasing items that will last. Think about filling the basket with things that the baby needs or things can be used several times, such as clothes, shoes, or educational DVDs. If the baby is approaching six months, a set of baby utensils and dishes would be useful. An older baby would use a sippy cup with a colorful design.