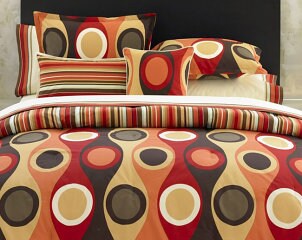 Designer beds, with their perfectly matched colors and beautifully arranged throw pillows, display a look that always makes a bedroom stylish. Unfortunately, casual pillow arrangements on beds often look like the aftermath of a pillow fight, with pillows tumbling to and fro. Bring order and style to your bed by arranging decorative throw pillows in a pleasing design, and your bed will rival those found in decorating magazines.
Arranging Pillows on a Bed:

Start with the right pillows. Choose accent pillows larger than your bed size for the back layer. For example, choose three king-size accent pillows for a queen-size bed. You will also need two rectangular decorative pillows (queen or full for a queen-size bed) and several small decorative pillows of your choice.

Plump up all of your pillows so that they are nice and full. Then, set up your largest pillows along your wall or headboard. They should be slightly leaning back on their bottom horizontal edge. You may want to think about choosing a solid color for this row to add depth and provide a backdrop for other pillows.

Place your second row of pillows on their bottom edges, leaning against the back row. For this row, use one pillow less than the back row. You want to make a triangular shape with your pillows.This will add visual interest and give your bed that designer look.

Add the small decorative pillows. Try placing two small, square pillows in the middle, leaning against the pillows in the second row. Then, place a final, smaller pillow in front of the two square pillows. This one can be a round pillow or a neck pillow, or it can even be a stuffed toy, which looks cute on a child's bed.
Tips:

Use pillows that have complementary colors and designs but are not all the same color and pattern. You can use coordinating patterns, however, to keep your bed from looking like a sea of fabric.

Do not overcrowd the bed with pillows. Three rows of pillows are usually the most that will look attractive on a bed.

Buy Throw Pillows
Back to Guides Directory