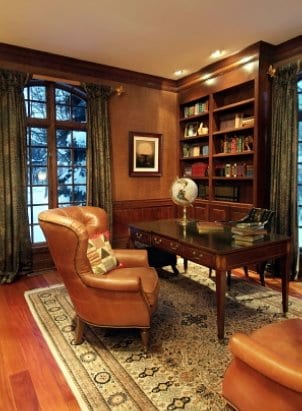 Things You Need:
Desk
Office chair
Shelving
File cabinet
Lighting
Visitor chairs
Although your home office furniture arrangement will be decided based on the size of the room, the available space and the office furnishings you choose, a few tips (and a bit of Feng Shui) will help you arrange your office to be more comfortable and inviting. Taking the time to effectively arrange your office furnishings can improve your efficiency at work.
Arranging a Home Office:

Think about the office supplies you use most often. When you can reach your most-used items easily, you can stay focused on the task at hand. For example, if you need to get into your file cabinet several times every day, keep it where you can access it easily while still sitting at your desk. If you have a lot of books that you refer to throughout the day, be sure to have bookshelves handy. If you do a lot of printing, look for a desk that lets you keep the printer right by your computer, or place a shelf for the printer right behind yoru desk.

Make sure you have ambient lighting as well as task lighting. Office lighting is important. If your office has natural light, try to use it as much as possible; natural lighting reduces eyestrain that is caused by glare and distortion on books and computer screens. Add desk lighting as well as overhead lighting for late-night office work. Be sure to position lights so there is no glare on your computer monitor.

Position your desk and office chair. If possible, place your desk so it faces the door. For a bit of interest, try placing it at a slight slant to the door. If the room is smaller, try a corner desk and place it near a window, so you still have a view.

Clear your office out. Remove unnecessary items. If you don't use certain items for work and if they don't inspire you to work more efficiently, they belong in a different room. It's important that you stay focused on your day's work.

Include comfortable seating for visitors and clients. Place extra office chairs and sofas to form a triangle facing your desk, with the chairs arranged to face each other. For a cohesive look, match the materials of the extra office chairs to your desk chair.

Allow for foot traffic. Make sure there are clear pathways around your furniture. Squeezing past filing cabinets or desks is not professional and will detract from your work. This will also help to cut down on any accidents in your office.

Buy Office Furnishings
Back to Guides Directory