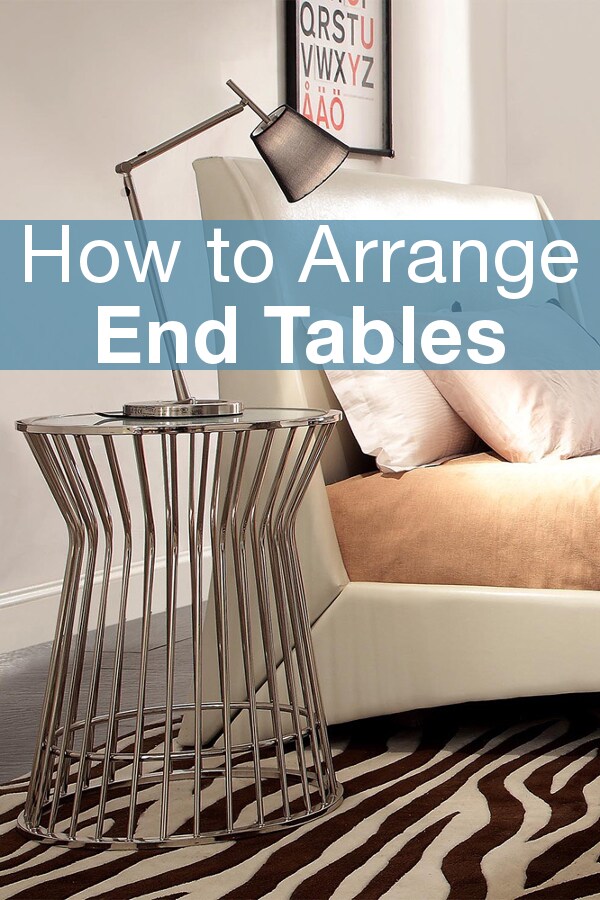 SHOP END TABLES NOW >>
You can use end tables in so many more places than just the two ends of your sofa. Look around your home and see where you could use a decorative accent piece, a little bit of storage, or just a place to set something down. Then you can shop for the end tables that will fill all of those needs.
Arranging End Tables:

In the bedroom: An end table works perfectly as a nightstand, and it's a fun way to mix and match bedroom furniture pieces. You can also use an end table in a walk-in-closet if you need a surface for setting down a jewelry box or a place to store a few handbags. If you have a sitting area in your bedroom, place an accent table there, too, so you'll have a place to put a reading lamp or set down a glass of wine.

In the living room: Naturally, end tables will always be perfect at the ends of your sofa. What better place is there to place table lamps, remote controls, and bowls of popcorn? If you find that you need more than just a surface in your living room, however, look for end tables that also have lots of storage, including drawers or shelves that can hold extra throw blankets or a stash of board games.

In the entryway: A welcoming entryway should have a place to set down keys and handbags, but not all entryways have room for lots of furniture. Add a small end table by your front door, and place a tray or decorative bowl on top to hold your keys, pocket change, and other little things that come into your home. You can even use the entryway end table as place to feature holiday decorations throughout the year. A bowl of Christmas ornaments in winter, apples in the fall, seashells in the summer, or painted wooden eggs in the spring will add seasonal style to your home in a place all your guests can enjoy.

In the bathroom: If you have a larger bathroom, then you have the perfect spot to add a pretty end table. Find a place where you'd like to have useful things nearby. Maybe you'd like to have a stack of folded towels closer to your bathtub, or maybe you just want a place to put a vase of fresh flowers in a guest bathroom.

In a home office: Your desk works hard already. Why not move a few things over to an end table by the seating in your home office? Create a reading area or even just a cell phone charging area with an end table placed against a wall or next to an armchair.

Shop End Tables
Shop Table Sets
Shop All Coffee, Console, Sofa & End Tables
See All Guides
Read More Furniture Guides
Learn More about Living Room Furniture
Published March 11, 2011
Updated December 31, 2014