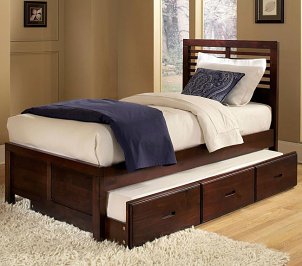 Things You Need:
Canopy or valance
Pillows
Duvet cover
Holiday lights
Blanket
Paint
Adhesive silhouette
You may not believe it, but your twin mattresses can be your biggest ally when redecorating a bedroom. Twin mattresses might seem exceptionally plain, but with a few additional design elements, they can be transformed into bold twin beds with style. As the smallest of the mattress sizes, twin mattresses remain versatile and can be used in many different rooms. Incorporate twin mattresses and beds into the bedrooms of children or young adults. Two twin beds can also be used for extra bedding in a guest bedroom. Don't forget that these mattresses come in both regular size and in an extra-long size for taller sleepers. Look below for additional tips on how to add style to a twin mattress.
Adding Style to a Twin Mattress:

Add a canopy. Various canopy styles can be added to twin beds. Some canopies or valances hang from the ceiling or bed frame and fall loosely at each corner of the bed. This fabric can be sheer or heavy, depending on the kind of privacy desired. Adult- and children-style canopies are available and include different types of fabric and embellishments, from feathers to flowers. Choose a canopy that already matches the bedroom or invest in one that will boldly stick out.

Use a variety of fabrics in pillows and blankets. Use a variety of fabrics to add different textures to the bedding's surface. Silk, velvet, corduroy and plush fabrics add interest and dimension to your otherwise plain bed. Use diverse fabrics when displaying throw pillows, duvet covers and blankets. Add many accent pillows of different shapes and sizes for additional contrast and interest. Remember to choose an overall color palette; all fabrics on the bed should contain one similar accent color for evenly distributed design flow.

Decorate the surrounding area. Emphasize the style of the twin bed and mattress by adding decor to the wall directly behind the headboard. Add a bold, vibrant wallpaper print to accentuate and bring focus to the bed. Apply large vinyl adhesive silhouettes around the bed in a contrasting color. Commonly used adhesive designs include silhouettes of trees, birds or oversized flowers. If the bedroom is for a child, invest in his or her favorite character's bedding and stencil the character's catchphrase on the wall above the twin bed. Another idea would be to drape holiday lights around the headboard. They will pull the attention to the bed.

Buy Twin Mattresses
Back to Guides Directory