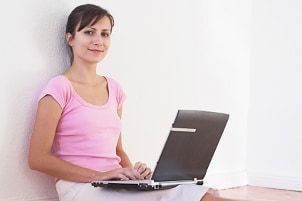 Things You Need:
Notebook computer
RAM modules
Small screwdriver
One of the issues that can slow down your laptop or notebook computer is too little memory. In this case, "memory" means random access memory (RAM). To run modern software applications, you'll want at least a few gigabytes of notebook memory. Many notebook computers are shipped with basic memory installed, but they have a maximum capacity that is at least double what the computer is originally sold with. Fortunately, you can upgrade the memory on your laptop in just a few minutes. Here are some tips on buying and installing additional RAM for your notebook computer.
Adding RAM to Your Notebook:

Find the right memory for you notebook. There are several types of RAM for desktop and notebook computers. You can check the user manual for your notebook PC or check the existing RAM stick for a label stating what type of memory the computer accepts. If your computer doesn't have any free memory slots, you may want to replace one or more existing notebook memory slots with larger modules.

Gain access to the memory slot. Make sure that your notebook computer is turned off. The access panel that covers the memory modules for your notebook may be located on the bottom of the laptop or beneath the keyboard. Check your instruction manual to learn how to uncover the memory slot.

Insert the new memory card. Your new memory card is sensitive to static electricity, so grip it by the sides or corners, careful not to touch the circuitry. Slip it into the memory slot and press the edges down until the holding tabs snap into place, securing the memory to your notebook slot. Secure the panel or replace the notebook computer keyboard to cover the memory modules.

Turn on your notebook computer. The new memory will be automatically recognized by your notebook computer. You can check you system properties to see that the amount of RAM installed has increased. You'll probably notice that your notebook computer boots and runs programs faster after you increase the memory.

Buy Laptops
Back to Guides Directory