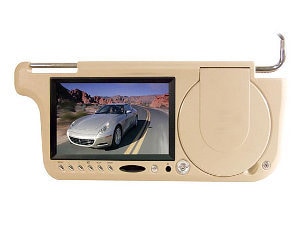 Those long car rides and cross-country road trips will go a lot faster with a little entertainment to speed things along. There are a number of car audio and video options for adding mobile video to your vehicle. At least one of the car video options below will probably work for your car with a little installation.
Adding Video to Your Car:

In-dash mount: Mobile video in-dash systems come in two basic sizes: Single DIN and double DIN. DIN refers to the size of the in-dash unit, also called the head unit. Both systems are approximately 7 inches wide. The single DIN and double DIN are 2 and 4 inches high, respectively, but the depth can vary greatly. This may be the most convenient option, since these car video players usually combine your car video electronics with your car stereo and CD player.

Visor mount: This system locates the car video screen on one of the front-seat visors. Strap-on monitors simply clip or strap to your existing sun visor. Monitor-visor combos replace factory-installed visors and have a built-in mobile video-screen. Many driver-side visor systems have a car video blackout feature, so that the driver can't be distracted while driving.

Overhead mount: Overhead car video screens offer some of the largest screens available. These car video players may combine the screen and player in a foldaway screen that's flush with the ceiling, or the actual DVD or Blu-ray player may be located underneath one of the seats.

Headrest mounted: Headrest video monitors are another great option for backseat viewing. You can install headrest video monitors in your existing headrests or just replace the headrests with custom-made headrest video monitors. The replacement headrest models are probably the simplest to install yourself. When two headrest video monitors are mounted, they can be connected to separate car video sources. One passenger can use the car video player while another plays video games.

Mobile video in a bag: If you need a mobile video player in multiple locations, like in the car, on a flight, in your motel or at the beach house, then a portable video system may be more convenient. A portable DVD player is a great mobile video option. Features to look for in a traveling DVD player include a clamshell design, dual headphone jacks, rechargeable batteries and a car charger adapter.

Buy Mobile Video
Back to Guides Directory