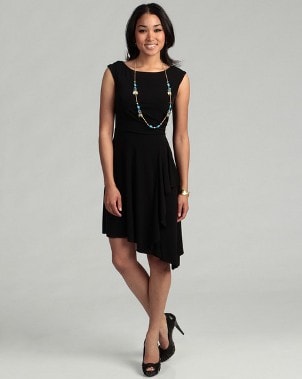 Building a wardrobe on a budget can be difficult, but with the right accessories, your closet can become much more versatile. Everyone needs a go-to dress and the accessories to go with it. With just a few accessory swaps, you take that dress, whether it's a little black number or an airy shirt dress, from day to night.
Looks for Day or Night:

Shoes: When you put together an outfit, you're going for a head-to-toe look. One of the easiest ways to change up the look of your dress is to change your shoes. For daytime, pair it with a pretty pair of flats or sandals. Even a low wedge is informal and comfortable enough to wear all day. For the evening, pump up your style with a pair of heels instead. Black patent leather stilettos are a classic choice, but you can also draw attention down to your toes with brightly colored pumps.

Jewelry: Daytime is the perfect time to embrace fashion jewelry trends. Try out layered bracelets, oversize watches, and long necklaces with your dress for a look that's fun and flirty without being too formal for a daytime soiree. To go out at night, swap your trendy style for more classic looks. A pearl or diamond necklace is always a tasteful choice, as are dangling earrings. If you're headed to a party, a cocktail ring is a must-have. After all, it did get its name for a reason.

Handbag: Your handbag serves two functions: carrying your belongings and accessorizing your outfit. Changing up the look of your dress is as simple as changing your bag. When you need to carry everything from your wallet to your day planner all day, opt for a more casual style that can easily hold your things. A leather hobo, or a chic satchel if you prefer more structure, can easily get you through the day. In the evening, a clutch is simple and sophisticated and has just enough room for your credit card, lipstick, and cell phone.

Makeup: Overly-done makeup can look heavy and cakey in natural sunlight. For daytime, use a light hand to apply your eye shadow and blush and choose a tinted moisturizer over a heavy foundation. In the evening, however, dim light can make you look washed-out. Sweep a grey or deep brown eye shadow into your crease and smooth your skin with a foundation. Swap pink lipstick for deeper reds, and bronzer for a rosy blush.

Belts and scarves: There are a few accessories that you may not wear every day, but can help you take your look from day to night. Skinny belts are a huge trend with dresses right now. A braided leather belt can be switched out for a skinny, sequined one in the evening. Lightweight cotton scarves can help keep the sun at bay during the day, while a silky pashmina wrap keeps you warm during the chilly evenings.

Buy Accessories
Back to Guides Directory