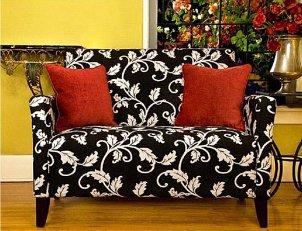 Things You Need:
Slipcover
Throw pillows
Throw blanket
Vacuum


Nothing completes the look of your living room like loveseats do. These versatile pieces of furniture offer cozy places to sit and fashionable decoration. However, after a few years, even the most stylish of loveseats can begin to feel stale. Before making any rash decisions regarding the future of your loveseat, consider giving it some flair with a makeover and some new accessories. Giving your loveseat a new and updated look is an easy and fun process. Take a look below to learn how to accessorize loveseats.
Accessorizing a Loveseat:

Consider the color and pattern of your loveseat. If you want a complete loveseat makeover, a loveseat slipcover in a new color or texture will do the trick. Make a well-informed decision before purchasing your new loveseat slipcover. Warm, dark colors work if you want to convey a message of coziness. Bright, bold colors will add a sense of dynamism to your room. Darker colors work in large living rooms, but if you have a small living room, stick with light, warm colors. Slipcovers offer an easy way to completely change the look of your living room or bedroom without spending a heap of money.

Add some pillows. Add color and life to your loveseat with decorative throw pillows. Throw pillows come in many different sizes, shapes, colors, textures and styles. Whatever style you desire, there's bound to be a throw pillow to help you add some spice to your loveseat or couches. Try a tasseled or ruffled sofa accent pillow to add diversity to your loveseat. Another great idea is to invest in holiday themed or colored sofa accent pillows. It is an easy way to decorate for the holidays and to update the look of your living room. Rich browns and gold work perfectly for the autumn months, while bright and cheerful colors match the spring and summer holidays.

Add a throw blanket. If you don't want to go as far as slipcovers for your couches but still want a drastic change, throw blankets are excellent second options. Like throw pillows, throw blankets are made in a huge variety of styles and colors, so finding one to modernize your decor should be easy.

Clean your loveseat. Take the time to clean your loveseat while you're waiting for your new slipcover or accent pillows and throw blankets to arrive. Clean and prepare your loveseat by vacuuming it. Your loveseat will look newer and fresher once you've vacuumed the surface and in-between the couch cushions.

Buy Loveseats
Back to Guides Directory