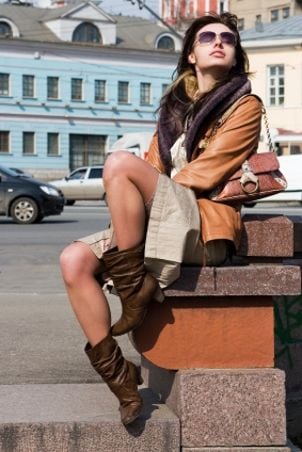 Have you hit a style slump with your casual dresses, or you are just looking for ways to dress them up a bit? Changing your jewelry and accessories adds variety to your wardrobe. With just a few swaps, you can change your style.
Accessorizing Casual Dresses:

Change your shoes. Your footwear can take a casual dress from day to evening. Wear low-heeled sandals with a maxi dress to the farmer's market, and you'll be comfortable all day. Then exchange them for heels for an elegant dinner out. A wrap dress worn with ballet flats works for the office. Stash a pair of peep-toe pumps in your handbag and you're ready for after-work drinks with your friends.

Accentuate with scarves. Simple dresses can be transformed with a colorful scarf. Tie a multi-colored silk scarf around the waist of a black shirtdress for a pop of color and to define your waist. Knot a brightly printed scarf at the neck of a grey jersey dress to highlight your face. Even a printed dress can benefit from a scarf. A solid scarf tied like a loose necklace can accent a floral-print dress.

Swap out your jewelry. Scale is the most important factor to consider when you are choosing jewelry to wear with your casual dress. Chandelier earrings add drama with their size, a wrist full of bracelets can add texture and color, and a statement necklace will add interest to a look. Any of those would get your dress ready for a party. To keep the look casual, choose smaller earrings, scale back the bracelets, and put on a slim chain necklace.

Pull it together with a handbag. Think about the shape of your bag. An oversized, slouchy hobo bag and a casual dress make a perfect shopping-day pairing. Carry a bag with more structure and less size -- like a satchel or a clutch -- to make your casual dress into something special.

Top it off. Try wearing a cardigan over a halter dress. You could leave it unbuttoned to just add warmth, or to create a new outfit, button it so that the bottom of the dress shows and appears to be a skirt. In the same way, a vest worn over dress can lend a whole new attitude to the outfit. A fitted blazer should make a casual dress into work wear, and you'll look put-together for your big presentation.

Buy Casual Dresses
Back to Guides Directory