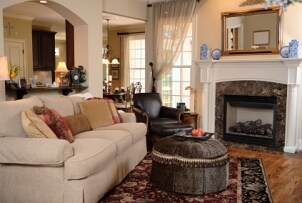 Ottomans serve multiple purposes in home decor. Some people use them as footstools, pairing them with armchairs, loveseats or couches. Others invest in storage ottomans with removable tops or trays beneath. In some homes, ottomans may serve as coffee tables, cocktail tables or end tables. Accessorize your ottoman to increase its functionality as well as its style. Below, you'll learn how to accessorize an ottoman.
Accessorizing an Ottoman:

Consider the necessary functions of your ottoman. It makes no sense to load your ottoman with accessories if you plan to use it as a table or chair. If your ottoman typically serves as seating or a table, make sure that any accessories and furniture you add nearby allow enough space around it for people to use it comfortably.

Take advantage of the different segments of your ottoman. Some ottomans have a bench-like design with a storage tray underneath. Use the tray to hold art books or, for a bright pop of color, stack textiles in different colors and materials. Storage trays can also hold throw pillows with eye-catching trims, such as beading, pom poms, fringe or small mirrors. If your ottoman has only small legs that touch the floor, you can add funky style by painting the legs a bold color or covering them in fabric that complements other living room furniture. For an ottoman that sits flat on the floor, add a throw rug or mat underneath for a bit of texture.

Add elements to the top of your ottoman. A folded throw can create a soft look, while an unfolded throw in paisley can give an ottoman a modern, bohemian touch to your home decor. A wooden tray can make an upholstered ottoman more functional by creating a stable surface for holding espresso cups or cocktail shakers. You can also use a wooden tray to hold small appetizers or tapas on little plates.

Connect the look of your ottoman with surrounding decorative elements. For example, if you have a gypsy-style tufted ottoman, you can pick up some of the bright colors with surrounding floor cushions and furniture in mango orange, fuchsia or periwinkle blue. If you have a large, square-shaped ottoman, echo the modernist geometry with cubist candle holders on a black lacquer wooden tray on top of the ottoman. If you have a frilly ottoman, place vintage crocheted doilies on top or stack small pillows in mismatched styles.
Decor Tips:

Keep the look fresh by rotating the accessories on your ottoman.

While it's fine to match an ottoman to a loveseat or arm chair, avoid matching ottomans and every upholstered piece of living room furniture, which muddies the look.

Buy Ottomans
Back to Guides Directory