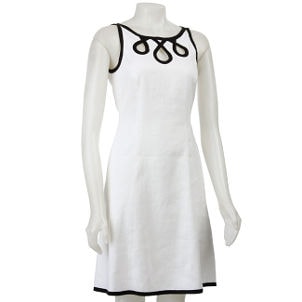 Things You Need:
Necklaces
Earrings
Brooches
White slip
Tights
Belts and wraps
Dressy shoes or boots
Sneakers
Leggings
Skinny jeans
The white dress is the spring equivalent of the classic little black dress, a modern staple just waiting to be taken to the next level with the right accessories. Today's white dresses are fashioned in flowing, ultra-feminine styles and simple, straight cuts. Whether it is a formal dress, cocktail dress or a light summer dress, your white dress can be dressed up or down with the right accessories.
Accessorizing a White Dress:

Decide on a look. Ask yourself if you are looking to go bold for date night or subdued for work. Have a goal in mind for your white dress. Look at photos of friends or check out magazines and shots of celebrities for inspiration.

Reevaluate your closet. Before you shop for the perfect shoes to wear with a white dress, check out the clothes and accessories you already own. The shiny brooch from your high school prom dress or the white blouse you frequently wear to work may work well with a white corset dress. Don't be afraid to try on different looks or mix styles. You just might find an outfit you like.

Slip into a slip. Make sure to wear a slip and either white or nude undergarments with a white dress, especially a sheer white dress. White tends to be transparent, and the fabric may cling to your body if you don't have a slip.

Add color and unexpected elements. Pair a white shirt dress with a chunky, colorful necklace, a unique clutch and strappy heels for a night out with the girls. Fun sneakers make the look more casual and comfortable.

Channel your inner Chanel. Get a sophisticated look with a simple pearl necklace and classic black heels. Add a silver clutch purse for elegant appeal. A white beaded dress also looks great with a dressy cardigan for cooler evenings.

Polish up punk rock. Mix up your white halter or white strapless dress with black tights and black ankle boots. Add a black statement necklace and a shawl or biker jacket for the evening and you are ready to rock.

Vamp up your night out with vintage. Accessorize a white evening dress with a vintage brooch. Place it directly on your dress or pin it to an elegant shawl or wrap that you pair with your dress. Finally, add a classic silver or gold purse. The theater (or dinner party) awaits.

Wear white in all weather. Yes, you can still wear your simple white dress after Labor Day. Layer a pair of leggings underneath it and add a velvet jacket and knee-high or ankle boots. A thick cardigan can also be a warm alternative to the jacket.

Get belted. A short white dress can be worn as a tunic over skinny jeans or leggings with a coordinating belt. Pick out pretty earrings and either boots, strappy shoes or sneakers for a dressy or casual look. A white maxi dress can also benefit from a wide belt.

Run for cover. When fall and winter sweep in, a white sun dress can be chilly and impractical. Fortunately, you can add warmth by wearing a fitted crewneck or turtleneck sweater over the dress, creating the look of a white skirt. Blues and reds will create a nautical look, and the skirt looks great paired with brown or black boots or wedges.

Buy Dresses
Back to Guides Directory