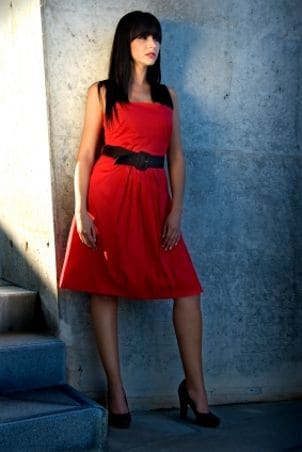 Wearing red makes an instant statement, especially when you don a red dress. Second only in popularity to the little black dress, a red dress lets people know you command attention. No matter which style of dresses you like best, you can either flaunt a red gown and emphasize its color or subdue it by coordinating with black and white. Whichever route you choose, red is a classic, bold color that is always in style. Read the following tips to learn all about how to accessorize a red dress.
Accessorizing a Red Dress:

Red on red: Accessorize your dress by sticking to a red color scheme. Add a pair of patent leather red pumps to a red evening dress and wear jewelry with red gemstones, such as rubies or garnets. To look polished, choose a statement piece to match your dress, such as a great pair of chandelier earrings or a ruby pendant, and keep hair and other accessories subdued.

A dash of black: Keep it classic by pairing red and black. Wear a black belt over your red frock and pair it with coordinating black knee-high boots. A black cardigan in a fabric similar to the red cocktail dress is a slimming accessory for cool evening events.

Lighten up: During the summer months, accessorize your red dress with white. Choose a white pearl necklace, pearl earrings and a wide white belt with a simple clasp for a summer party dress or to dress up a red evening dress. White open-toed sandals or simple heels will give your dress a vintage look.

Primary colors: Add a pop of color to a red party dress or flirty casual dress with accessories in primary colors. Find a tasteful multicolored handbag to carry while you wear your red dress or look for colorful vintage earrings to give your outfit a funky vibe. Find simple accessories that will add a pop of color and become conversation pieces.

Holiday glam: Sparkle for the holidays by accessorizing a red gown with metallics and gemstones. Add glamour to your red cocktail dress with gold flats and layered gold and silver necklaces. Keep the attention on your great dress by wearing simple diamond studs and an elegant black jacket or cardigan with a few beads or gemstones around the neckline.

Buy Dresses
Back to Guides Directory