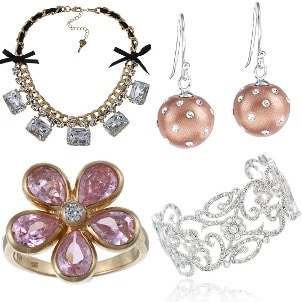 You can shine like a star at your prom with the perfect dress and the right jewelry. Glamorous fashion jewelry adds just the right touch of sparkle and color to your prom ensemble. Knowing how to choose prom jewelry is important when you are putting together the perfect formal look. You can use jewelry to add your own personal stamp to your prom fashion. Accessories will help bring out the special details of your prom dress and highlight your best features.
Accessorizing a Prom Dress:

Choose one statement piece: Keep your prom look fashionable by choosing just one dramatic piece of costume jewelry. If you choose to wear a tiara, avoid necklaces and bracelets with chunky metal links and oversized pendants and charms. If you want to draw attention to your neckline, choose a bold faux gemstone necklace and select simple diamond studs over large chandelier earrings. The statement piece you do choose will be able to shine much brighter with simple and straightforward fashion jewelry accompaniments.

Highlight your dress: Use costume jewelry to show off the special details in your prom dress. If your dress has delicate bead work, wear sparkling crystal necklaces or chandelier earrings to highlight the shimmering beads. If your black dress has a red sash, choose a bold red cubic zirconia cocktail ring as your statement piece. Think outside the box to add the right color and shine to your unique gown.

Look to another decade: If your prom dress has vintage appeal, then choose costume jewelry with a retro edge. A long 1970s style dress looks fantastic with a large novelty pendant on a long swinging chain. A dress with 19th century style looks amazing with a cameo pendant pinned to a velvet choker. Use vintage costume jewelry to enhance your modern prom ensemble.

Anticipate the corsage: Your date will most likely bring you a beautiful corsage when he picks you up for the dance. Most modern corsages are worn on the wrist, so if you choose to wear a bracelet, be prepared to have two adorned wrists.

Buy Jewelry
Back to Guides Directory