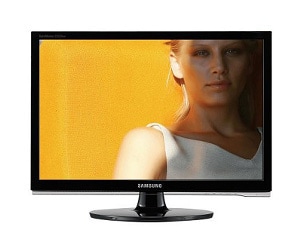 When it comes to identifying the leaders in high-quality LCD display technology, Samsung is on the short list. Samsung LCD monitors consistently deliver the best picture quality and durability in the industry. Few LCD monitors from other manufacturers can match the quality and the groundbreaking features that Samsung monitors boast. Here are just some of the things that Samsung LCD technology has gotten right.
Samsung LCD Highpoints:

Full HD picture: For any serious system aimed at entertainment, a computer monitor with full 1080p high-definition capability has fast become a necessity. Whether you're using a widescreen LCD monitor to watch DVD and Blu-ray movies or immersing yourself in those late-night gaming sessions, Samsung LCD monitors will deliver the best HD picture.

Seamless image processing: Image processing continues to improve, and Samsung LCD monitors are leading the pack. With refresh rates as high as 240 Hz and well-implemented dejudder processing, these monitors have handling motion-blur and other visual artifacts down to a science. Viewing angles on Samsung monitors are also superior.

Superior built-in sound: Samsung LCD monitors aren't the only ones to include built-in sound. But they produce high-quality audio that may make you put your old computer speakers back in the box.

Stunning colors: The dynamic contrast ration that Samsung LCD monitors have is possibly their most impressive feature. Just one look at the deep blacks and vivid colors will impress you. Premium graphics on games and stunning special effects in movies won't be wasted on Samsung LCD monitors.

Multiple connectivity options: Samsung seems committed to multiplying your options for connecting different devices to their monitors. Most Samsung LCD monitors feature multiple connection ports, including the regular VGA and multiple high-definition DVI or HDMI ports.

Buy Samsung LCD Monitors
Back to Guides Directory