Hottest Bags for Spring
by Andrea Sparks
Just like the rest of your wardrobe, your bags need a bit of spring cleaning to wipe winter out of your look. Tuck your fall and winter favorites away and invest in a fresh new bag for spring. Handbags are one of your most noticed accessories, so you'll want to make sure the bag you carry over your arm during the warm season reflects the rest of your spring wardrobe. Here are the hottest handbag styles to throw over your shoulder in the spring.
Best Bags for Spring: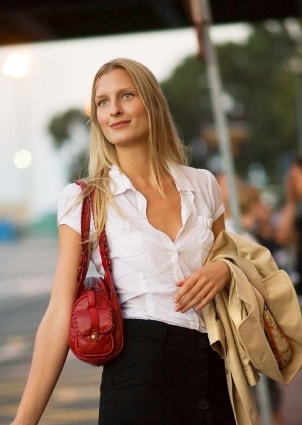 Shop for Handbags ▸
Carry-all:

From sunglasses and water bottles to a light jacket and umbrella for those spring showers, you have a lot to carry around with you during the spring season. This is just part of the reason why carry-all bags, such as hobo bags and tote bags, are so popular for the season. When you're looking for a carry-all bag to take along, pick up a cute hobo bag or canvas tote and fill it full with all your necessities.

Designer:

The hottest handbags are always designer bags. Many designers even debut new lines for spring. Pick up a hot new style from your favorite designer or go with a classic look. You can even accessorize your new bag with a matching wallet and sunglasses from the same designer.

Bold color:

Nothing freshens up your look like sunny palette of colors. Look for a handbags in the brightest shades of yellow, purple, green, or pink and carry it with you everywhere. If you're not ready for the pop of electric yellow, try a satchel or tote in a flirty floral print. Not only will fun colors and prints brighten up your look, but they're bound to cheer you up as well.

Small and simple:

For the no-fuss woman, small and simple handbags are gaining popularity and offer the perfect lightweight look for spring. A simple clutch bag holds your credit card and lip gloss for a backyard dinner party, and a small satchel or shoulder bag essentially acts as a wallet on a strap. For the days when you simply need the basics, small bags feel carefree and perfect for spring.

Unexpected details:

Nothing catches the eye like a bright ruffle or sparkle on a handbag. Look for fun bags adorned with everything from bows to chains and rhinestones to make an impression this spring. Get a toned-down version of the look with small bags featuring contrasting fabrics, perforated leather, or flirty ruching. A uniquely shaped bag will certainly grab everyone's attention as you stroll down the street.