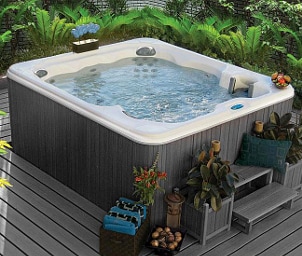 Whether it's for your family, for social gatherings or just for you at the end of a long day, a hot tub is an excellent addition to your home. Unlike jetted tubs inside your house, a hot tub lets you enjoy nature while you soak. Adding a hot tub or spa to your deck or patio is a home improvement you'll be glad you made.
Hut Tub Terms:

Cabinet: The cabinet is the exterior of the hot tub. It hides the plumbing of the hot tub and gives the hot tub a decorative look. Some are made out of wood while many others are made of a synthetic material.

Cover: The cover for your hot tub will help it retain heat, will keep debris out of the water and can keep children and animals from getting into your hot tub. Most hot tub covers are made of an insulating material that is covered with vinyl.

Filter: Either using suction or pressure, the filter removes impurities from the hot tub water.

Heater: A heater is required to make the water hot enough. Most portable hot tub heaters are electric.

Hydrotherapy: This form of physical therapy uses water to aid in healing. Since ancient times, it has been believed that hot water helps increase circulation. The jet streams of water in hot tubs also give massage therapy.

Insulation: The inner layer of the shell contains an insulating material to retain heat.

Jacuzzi: Although "Jacuzzi" is often used to refer to any tub with massaging jets, Jacuzzi is a trademarked brand name and should only be used to refer to products made by Jacuzzi, Inc.

Jets: The jets push water and air to massage your muscles. The number of jets a hot tub offers is often a selling point.

Ozonators: Ozone generators, also known as "ozonators," are handy devices which draw oxygen into the spa water and turn it into ozone, which helps keep the water clean. Many hot tubs include ozonators, and others can support the addition of one later.

Pump: The pump is the main pressure system that moves water to the jets.

Shell: The shell is the interior of the hot tub. The shell may have such features as molded seats, built-in pillows, lights or cup holders.

Spas: The terms "spa" and "hot tub" are often used interchangeably. Since the rise in popularity of day spas and destination spas (places where people receive treatments such as facials and massages), the term "hot tub" has become the preferred term for many people who are referring to the bubbling tub of water. Both terms are correct.

View All Hot Tubs and Spas
Back to Guides Directory