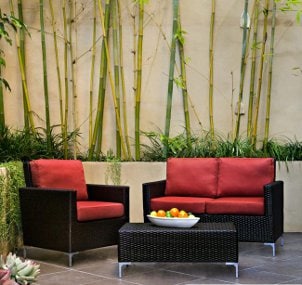 Patios are turning more and more into outdoor living areas, complete with all the comforts of the indoors and the fresh outside air. This gives you many more options when it comes to decorating your garden and patio. Read up on some of the hottest trends in patio design to get some inspiration for your own outdoor space.
Patio Decor Trends:

Firelight: The glow of a fire adds both beauty and enjoyment to your yard. From lighting a backyard party with candles to roasting s'mores over a campfire, adding flame to the design is a big trend. For mood lighting, look for outdoor candles and tiki torches you can place around your patio. For a bigger impact, a fire pit creates a natural and beautiful focal point. You can also choose a portable fire bowl for a less permanent feature. Find out more about adding fire to your patio design with our guide about outdoor fireplace ideas.

Sun sails: It's nice to escape to some shade during the heat of the day, and sun sails are becoming a popular option for shading your patio. Sun sails can be anchored to rooflines, fences, trees and anything else stationary, and, unlike umbrellas, they won't take up any space on your patio. Choose a large sun sail to shade the entire area or create an oasis by hanging a shade over just a corner of your patio.

Gathering spaces: Backyards are becoming the place to host parties and gather with family. Patio furniture is, for this reason, becoming larger, more comfortable and more conducive to social gatherings. An outdoor furniture set with a sofa, pair of arm chairs and coffee table makes your patio just as comfortable as your living room, and large chaise lounges and sectional sofas make lounging in the yard with family and friends more comfortable. Learn more about how to create an outdoor living room.

Waterways: Water has always been a popular element in landscape design, and it's gaining more and more attention in patio decor. The sound of running water is soothing and is easy to create with a fountain on your patio or deck. Small ponds and reflecting pools built into your patio create visual interest and can even help keep the space cool in the summer heat.

Buy Garden and Patio Products
Back to Guides Directory