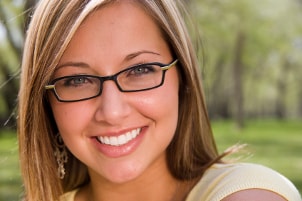 You carefully choose your outfit every morning, from your shirt and shoes to your handbag or briefcase. You should put the same effort into choosing the right eyewear. Read our Tips on Buying Eyeglasses guide and the following tips about current trends in eyeglasses to find a pair that are comfortable, fit well and look hip and trendy.
Eyeglass Trends:

Vintage inspirations: Retro fashion is popping up everywhere, and the world of eyewear is no exception. The most popular vintage-inspired looks come from a variety of decades, from the 1960s horn-rims and cat eyes to decidedly '90s round lenses. Retro is making a comeback in more than shape; classic looks, like thick frames and tortoiseshell coloring, are some of the biggest trends in eyewear, whether the glasses are sporting a vintage shape or not.

Neutral frames: The new way to wear plastic frames is to go for a shade that's light and neutral. Tan and grey frames are extremely popular, and the lighter shades let you wear a thick plastic frame without overpowering your face. Add a touch of color to the look with pale and semi-transparent shade of light blue or green. To really play up the subtle effect of this neutral trend, try a pair of glasses in a semi-transparent white or completely clear frame.

Half-rims and rimless: Following the same principles as the neutral trend, the half-rim and rimless looks are popular because they offer a style statement without overpowering your face. Among the most popular options are half-rims that have a frame over either just the top or just the bottom half of the lens, which gives the effect of a frame without looking too heavy. A rimless look is best for those who don't want their glasses to change their look, and the barely-there lenses are equally subtle and chic.

Geek chic: Oversized frames are popular right now, finding their resurgence in modern designs that play off some favorite retro styles. Go for geek chic with a pair of horn-rimmed or plastic-framed wayfarer glasses and pair them with your favorite casual wardrobe styles, like a graphic T-shirt and slim jeans or a high-waist skirt and ankle boots. Try a pair of oversized glasses to really get the look or something more subtle to sport as your everyday style.

Buy Eyeglasses
Back to Guides Directory