Home Theater Buying Guide
by Staff Writer
New options for home audio and video electronics just keep getting better. It's now more affordable than ever to have cinema-quality displays and surround sound in your living room. If you're considering enhancing your home entertainment setup, home theater systems and components can help you make some big upgrades. This home theater buying guide will help you select a quality home theater system or build your own from individual components.
Buying a Home Theater System: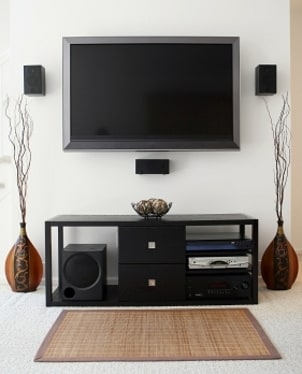 Shop Home Theater ▸
Home theater rooms:

The room that houses your home theater has a significant effect on the sound quality, screen size and seating options. It may help to take some measurements and sketch a quick diagram of the room.
Sketch the Room
Architecture: Note the location of windows, doors and other architectural features that will affect how sound travels through the room. Also note the surfaces in the room that may affect sound like carpet, furniture or curtains.
Speaker location: Mark possible speaker locations around the seating area. Speakers work best when they are at or near ear-level and spaced a foot or more away from the wall.
Power: Check for electrical outlets near your chosen location for your home theater receiver, television and peripheral devices.
Amplifiers and pre-amps:

Basically, every speaker is powered by an amplifier or pre-amplifier. Amp power is rated in watts (W), which you can match to the power ratings (RMS) of your speakers to prevent blowouts. Your home theater receiver may include a built-in amplifier, often called a pre-amp, or you can connect a more powerful amplifier to power your speakers.

CD, DVD and Blu-ray players:

Home theater systems produce great audio for either music or movies. Most home theater receivers will have connection ports for audio and video cables from stand-alone CD, DVD and Blu-ray players. But more and more receivers now include built-in DVD or Blu-ray players. A Blu-ray player is ideal, because it will also play DVDs and CDs.

iPod and MP3 players:

With a USB port or a docking station, you can connect your portable MP3 player to your home theater and enjoy your digital music library through multi-channel speakers. You may want to check for compatible receivers that can actually control your MP3 player using your home theater remote, too.

Home theater receivers:

The center of your home theater system is the receiver. It works much like an audio receiver for large home stereo, but it processes video as well as audio. You may want to check a few things when choosing a receiver or a pre-assembled home theater system.
Receiver Checklist
Connections ports: Your home theater receiver will probably have ports for regular A/V cables, but you'll need HDMI connections to get real high-definition video to your HDTV, with extra HDMI ports for external Blu-ray players and video game systems. If you're setting up a sound system with TOSLINK optical cables, you'll want to be sure your home theater system supports them.
Audio decoding: Movies encode their video using specific audio codices, which your home theater receiver decodes and sends to your speakers. Check to see which codices are most common in your movie library and find a home theater system that matches.
Televisions:

HDTVs are amazing displays that provide a superior picture to match the surround sound of your home theater system. Both LCD and plasma TVs will accept an HD signal from your home theater receiver. Match your television screen size to the size of the room you'll be viewing it in.

Home theater speakers:

Unless you purchase a home theater system with a receiver and speakers included, you can choose separate speakers for your surround-sound system. Home theater speakers handle audio channels sent by the receiver. You can choose large speaker cabinets with multiple drivers or small bookshelf speakers, depending on the room layout and your style preferences. If you don't want to worry about running speaker wire, wireless speakers can be a convenient alternative.

Speaker placement:

A 5.1 home theater system has five speaker channels and one subwoofer channel. Similarly, a 7.1 system has seven speaker channels. Most home theater speakers are placed in a pattern.
Placement Pattern
Center: A center speaker usually goes in front of the viewing screen, handling dialogue and foreground sound.
Sides: Left and right side surround-sound speakers add dimension to the sound space. Usually, they are placed at ear-level on either side of the listeners. A 7.1 home theater sound system will have two additional side speakers that may be placed further forward or back in the listening area.
Rear: Rear surround speakers are placed behind the listeners for background sounds.
Bass: A subwoofer can be placed nearly anywhere in the room without affecting bass sounds very much.
Ideas from Overstock™
For a full cinema experience, add a home theater projector to your theater room. The contrast ratio and resolution of home theater projectors can rival most HDTVs, and the projected image can be expanded to be larger than even the largest TV screens. A projector can be mounted to the ceiling or set on a tabletop to project on a wall or a lightweight projection screen.
Add a high-definition Blu-ray player to your home theater for even higher detail and interaction with your entertainment. Many Blu-ray players can access the Internet through your home network, unlocking interactive content and online video streaming.