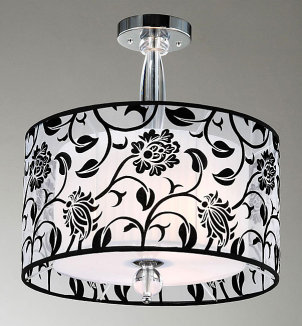 Is it time to update the look of your home with new home lighting ideas? Never fear; there are plenty of home lighting options for every room of your house, and you can find them all at Overstock.com for great low prices. Try out some of these ideas to change up the lighting style of just one room or your whole house.
Lighting Your Home:

Living room: Floor lamps and ceiling lights are some of the most common home lighting options; update an older home with contemporary materials and styles or mix and match for an eclectic style all your own. Recessed or track lighting are great options for lighting up the whole room and can also be used to highlight specific areas or decorations. Chandeliers add some class to your living room and become a decoration while they light your space. Candle sconces, wall lights and table lamps add some mood lighting and are great for layering your home lighting sources, so you get lots of light and lots of style. Try putting various home lighting options at different height levels to increase visual interest and add human scale to the room.

Dining room: Chandeliers are fantastic home lighting options for dining rooms. They can create every mood from romantic to formal, and they are as much a decoration as a light source. Hang your chandelier about 30 inches above your dining table, a little higher for big chandeliers or high-ceilinged rooms. Consider using more than one chandelier or adding candle sconces and wall lights to layer the light in your dining room and create multiple moods. Candle sconces and dimmer lights allow you to have bright light for setting the table and soft light for romantic dinners.

Kitchen: A single ceiling light or ceiling fan is the most common kitchen lighting, especially in small kitchens and older houses. Add a second ceiling fixture above your sink to increase visibility and brighten the time spent doing kitchen chores. Recessed or track lighting increases the light around the whole kitchen or can be used to spotlight specific areas. Pendant lights make great separation lines between the kitchen and breakfast nook or dining area; use them to add visual interest to your breakfast bar or countertop. Small lamps under your cabinets keep your other workspaces out of the shadows, while wall lights add layering options and personality.

Bedroom: The home lighting options for bedrooms are only limited by your imagination. If you have a warm upstairs bedroom or live in a hot, humid climate, a ceiling fan light might be the best option to light your space and keep you cool. Use decorative bedside lamps or swing-arm lamps to light your bedtime reading without disturbing your partner. Small ceiling lights mounted close to the wall or recessed downlights can highlight your beautiful headboard or favorite piece of art without giving a glare, while candle sconces, wall lights and dimmers all provide style, personality and a romantic mood.

Buy Lighting and Ceiling Fans
Back to Guides Directory