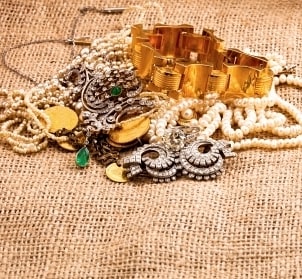 Does your jewelry collection need a bit of a makeover? When broken rings, necklaces and earrings get in the way of accessorizing each day, consider investing in some basic jewelry repair. Many pieces of jewelry can be repaired at home, saving you the costs of visiting a jewelry professional. You simply need a few jewelry tools to get started.
Essential Jewelry Repair Tools:

Polish and cleansers: Jewelry should be cleaned before any repair is performed so that each tiny crack and corner can be seen easily. Some jewelry, like gold rings and diamond earrings, can be cleaned using only warm, soapy water. Other pieces require bottled jewelry-cleaning solutions or an ultrasonic jewelry cleaner. Sterling silver is prone to tarnish, so silver jewelry should be cleaned regularly with a silver polish.

Cloths and brushes: You can't get your jewelry clean and shiny without the right brushes and cloths. A jewelry brush helps you clean between stone settings; a soft toothbrush can do the trick if your jewelry repair set doesn't include a brush. Microfiber cloths work wonders on tarnished sterling silver.

Clasps: Sometimes a clasp is all you need to fix on a piece of jewelry. A set of jewelry findings includes everything to need to make these small repairs. Lobster clasps, toggle clasps and spring rings can usually be replaced with a pair of pliers and a split ring.

Split rings: Jewelry finding kits should include a set of split rings. Split rings are ideal for hanging pendants and charms. You can easily replace broken split rings on necklaces and bracelets by gently opening the ring with a pair of pliers or your fingers and closing it around the loop on the top of a pendant.

Earring forms: Earring forms are often included in jewelry finding kits, but they can also be purchased separately. If your favorite pair of earrings has a broken hook, replace it with a new hook and a split ring.

Miniature pliers and tweezers: To get all of these jobs done without becoming overwhelmed or frustrated, keep jewelry pliers and tweezers within reach. Small pliers are affordable and jewelry tweezers often come in a set to make shopping easy.

Buy Jewelry Tools
Back to Guides Directory