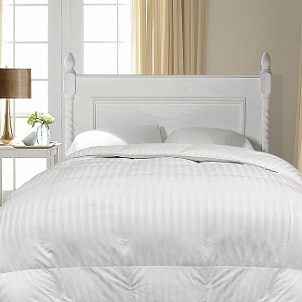 The use of down can be traced back to prehistoric times, but the goose down comforter that can be found on many beds today didn't gain popularity until much later. Ideal for keeping you warm during cold winter nights, goose down comforters are some of the most luxurious bedding pieces you can buy when you want to be surrounded by the comfort of down. This short history of the goose down comforter will bolster your knowledge of down and may convince you to invest in the luxury of a goose down comforter for yourself.
Goose Down Comforter History:

The early days of goose down: In 1749, the first written account of a down comforter being used in England was recorded. Writer Thomas Nugent jotted down his observations about the practice of layering feather-filled blankets on the bed and passed it off as "very particular."

Goose down gains momentum: In the mid-1900s, goose down feathers got their chance to shine. Often considered more luxurious than duck down because of its warmer and plusher loft, goose down feathers became a hot commodity for down bedding items, like down pillows and down comforters.

Goose down outerwear spreads across the U.S.: The quilted goose down jacket was introduced in 1935 by Eddie Bauer, Inc. to protect against winter storms. This led to the manufacture of goose down sleeping bags and helped goose down become a household item. Relied upon by the U.S. Army, goose down became a trusted material for bedding, like goose down comforters.

By any other name: In 1970, Swedish retailer Ikea popularized the term "dyne," which later evolved into the English word "duvet." Synonymous with goose down comforters, goose down duvets revolutionized the concept of down bedding because they make cleaning easy with the aid of a duvet cover. These covers can be removed regularly for washing, making goose down comforters much more accessible and durable.

Goose down comforters coin a new phrase: In the late 1990s, the term "duvet day" began to catch on in England. Meant to be used in place of the phrase "sick day," taking a duvet day has now become a widely-known phrase in Europe that means taking the day off work to lounge around -- most likely in a cushy goose down comforter-covered bed.

Buy Down Comforters
Back to Guides Directory