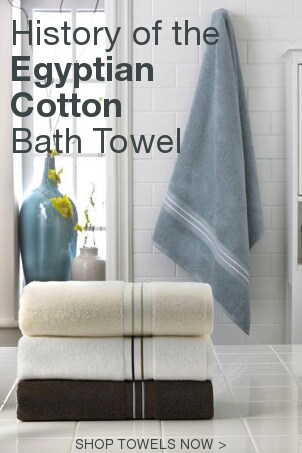 Whether you are an Egyptian cotton fan already or are looking into purchasing quality Egyptian cotton towels, you may want to learn more about the history of the Egyptian cotton bath towel. The fiber has been around for centuries, but it has only recently become a favorite for household linens.
Egyptian Cotton History:

Cotton makes its debut. The popular textile is believed to have been used as far back as 3,000 B.C. by farmers in northwestern India. The cotton fibers were spun into yarn and created a breathable textile that was lightweight and easy to care for. It was around the same time that Egyptians discovered how well specialty cotton could be grown along the banks of the fertile Nile River. This was the first appearance of Egyptian cotton and it was typically used for clothing and bedding.

The cotton gin propels cotton sales. Cotton quickly spread throughout the world and become the fabric of choice due to its abundant growth and sturdiness. In 1793, Eli Whitney secured a patent for the cotton gin, a mechanical device that made it possible to produce cotton fiber ten times faster than by hand. His invention led to a giant boost in the use of cotton and made cotton a household product. People began discovering the extreme softness of Egyptian cotton fabric wares, like bath towels and sheets, as they became available to the mass population at a more affordable price.

Egyptian cotton gets trademarked. In 2001, the Egyptian cotton logo was trademarked. It can only be placed on bedding and sheets made from 100 percent pure Egyptian cotton fabric. Many cotton products are made with a blend of standard cotton and Egyptian cotton; however, only pure Egyptian cotton carries the high thread count and supreme comfort consumers crave. Look for the white cotton plant inside a pyramid to ensure that your towels are premium Egyptian cotton.

Egyptian cotton towels become the standard for luxury. Made from specially spun cotton fibers grown in the Nile River Valley, Egyptian cotton bath towels are the ultimate in luxury and durability. The long fibers of Egyptian cotton mean it can be spun much thinner than other cotton textiles, like pima cotton, to produce an extremely high thread count per square inch. The fiber makes these towels extremely absorbent and soft.

If you have questions about shopping for towels, be sure to read our towel buying guide.
What Do You Want to Do Next?

Shop Bath Towels
Shop Bath Sheets
Shop All Towels
See All Guides
Read More Home Guides
Learn More about Bath Decor