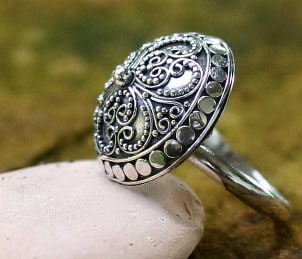 A high-school friend of mine was obsessed with sterling silver, and I didn't understand it until I learned that sterling silver jewelry is just amazing for the price. Sterling silver is a precious metal, but it is generally much more affordable than white gold and platinum. Jewelry made of sterling silver is perfect for your collection of fashion accessories, and silver jewelry can also be found in fine jewelry categories, including wedding jewelry. Sterling jewelry will delight you with its fantastic shine and long-lasting wear. Look to our facts about the history of sterling jewelry to learn more about this beautiful metal before shopping.
All about Sterling Jewelry:

Sterling commerce: Sterling alloy appeared on the scene in the 12th century, originating in Europe. It was used to make coins and buy goods for many centuries throughout Europe, particularly in the area where modern Germany is located. It's easy to see why silver was considered the perfect metal to create coins when you take notice of its luster.

On the table: Sterling silver jewelry's ancestors are flatware and tea services. These items were very popular from 1840 to 1940. Some sociologists speculate that the silver flatware craze lead to more extravagant dining practices around the turn of the century. You simply had to have a sterling cheese knife for your cheese course! Goblets, napkin rings and candelabras adorned the tables of the very wealthy.

Fashion and beauty: Sterling silver quickly made it to more private rooms in the home, adorning mirrors, brushes and perfume bottles. It was only a matter of time until sterling silver jewelry became popular. Some jewelry of the Art Nouveau period (1890 to 1905) was made of silver, and the Art Deco period during the 1920s was filled with sterling jewelry. Of course, everything silver was very popular during the 1950s. You had to have a silver toaster and gleaming chrome details on your car, as well as a collection of lovely silver cocktail rings.

Modern jewelry: Sterling jewelry has never really faded from fashion, and today it is more popular than ever before. Sterling silver jewelry satisfies our need for beautiful things and an abundant savings account. Sterling silver has even made it into the fine jewelry and designer jewelry categories. Many brides are looking to sterling silver for engagement rings and wedding day jewelry. Sterling jewelry is destined to be a favorite for many more centuries.

Buy Jewelry
Back to Guides Directory