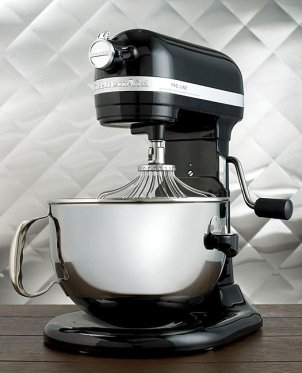 KitchenAid leads the kitchen appliance industry year after year, so it's no surprise that anyone interested in the very best knows that it's a smart brand to rely on. KitchenAid products, from mixers to cutlery, have combined style and quality for generations. They've been around for nearly a century, so there's some interesting KitchenAid history to learn.
KitchenAid's History:

Mix it up: When most people think of KitchenAid, they think of mixers. That shouldn't come as a surprise, considering that mixers were the first products created by KitchenAid, in 1919. It was then that KitchenAid introduced the Model H-5, a stand mixer that had quality and convenient features.

Styles and smiles: In 1936, KitchenAid brought Egmont Arens, a well-respected industrial designer, into the company's fold. Arens was tasked with designing three new stand-mixer models.

Dish it up: KitchenAid's next big innovation was the KD-10 dishwasher, which took home dishwashers to a whole new level with its pressurized water system. Unlike previous dishwashers, the KD-10 had the power to truly clean dishes instead of simply getting them wet.

Cooking up something wonderful: In 1955, KitchenAid took a major step in expanding its cooking appliance line by purchasing the Chambers Range Company. This was also the year that KitchenAid introduced new colors for its mixers, including such shades as antique copper, sunny yellow, island green, petal pink, and satin chrome.

Cool it down: 1986 saw KitchenAid expand its line of quality appliances even further with refrigerators. Since their introduction, KitchenAid refrigerators have become some of the most well-regarded kitchen appliances on the planet.

Blending in: KitchenAid saw a lack of high-quality home blenders on the market, so in 1992, the company unveiled its own line of blenders. These handy devices continue to enjoy immense popularity among all types of home chefs, as they allow for easy blending and mixing of a variety of foods.

Today: KitchenAid continues to introduce reliable and forward-thinking kitchen appliances to the market, such as slow-cook warming drawers.
What Do You Want to Do Next?

Shop KitchenAid Appliances
Shop KitchenAid Cookware
See All KitchenAid Products
See All Guides
Read More Kitchen & Dining Guides
Learn More about Small Appliances